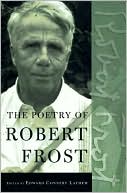 January 29: Robert Frost died on this day in 1963. New Hampshire (1923), which won the first of Frost's four Pulitzers — this a record, with only one three-time winner (Edwin Arlington Robinson) — has the revealing subtitle, "A Poem With Notes and Grace Notes." T. S. Eliot's The Waste Land had been published in book form the previous year, with the author's extensive explanatory notes. Regarding such comments as elitist and pedantic, Frost used his New Hampshire title-page as a playful announcement that he too has scholarly notes, which turn out to be the "explanatory poems" of the collection. Frost's joke also had a more personal side, stemming not from his disdain for intellectualizations and tennis-with-the-net-down free verse but from some snotty comments Eliot had published the previous year in the American literary magazine, The Dial: "Mr. Frost specializes in New England torpor; his verse, it is regretfully said, is uninteresting, and what is uninteresting is unreadable, and what is unreadable is not read. There, that is done."
Frost's anti-modernism also had a business side, as described in a letter written a half-century earlier, the year before publication of his first collection:
There is a kind of success called 'of esteem' and it butters no parsnips. It means a success with a critical few who are supposed to know. But really to arrive where I can stand on my legs as a poet and nothing else I must get outside that circle to the general reader who buys books in their thousands. I may not be able to do that. I believe in doing it — don't you doubt me there….
This ambition to be a poet of the people, one who knew a parsnip from a periphrasis, led to other spats. Ezra Pound promoted Frost's first book, but found him "homespun, dull and virtuous," and "as pig headed as any New Hampshire hick that ever put pumpkin seed into a granite field with a shotgun." The two went in different poetic directions, and as this comment in a 1936 letter to Louis Untermeyer indicates, enjoyed a life-long quarrel: "I had a really dreadful letter of abuse from Pound in which he complains of my cheap witticisms at his expense. I may have to take him across my page like this: It is good to be back in communication with you on the old terms. My contributions are the witticisms: yours the shitticisms."
---
Daybook is contributed by Steve King, who teaches in the English Department of Memorial University in St. John's, Newfoundland. His literary daybook began as a radio series syndicated nationally in Canada. He can be found online at todayinliterature.com.