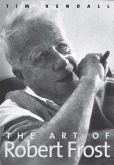 Two of Robert Frost's most famous poems, "The Road Not Taken" and "Birches," were first published in The Atlantic on this day in 1915. Frost had recently returned to the U.S. after two and a half-years in England. The Atlantic had earlier rejected some of Frost's poems, but now that he had two collections gaining attention — these first published and praised in England — the magazine found new enthusiasm. Mountain Interval, Frost's first collection to be published in America, came out a year later, with "The Road Not Taken" the first poem in the book.

Some of the biographic accounts regard "The Road Not Taken" as a signature poem and a legend-making, life-defining moment in the poet's career. When he returned to America in 1915 Frost planned to be a poet-farmer and become famous: "There's room for only one person at the top of the steeple, and I always meant that person to be me." His elbowing self-promotion and "barding about" took him away from the farm and, his wife kept saying, his best self. The apparent toll on the family — only one of his six children had anything approaching a full, stable life — left Frost with regret for a life he would describe as "outrageously self-indulgent":
All this sickness and scatteration of the family is our fault and not our misfortune or I wouldn't admit it. It's a result and a judgment on us. We ought to have gone back farming years ago, or we ought to have stayed farming when we knew we were well off.
When describing his inspiration, Frost was as ambiguous as his poem. He maintained that his intention was to poke fun at his friend the poet Edward Thomas, who could never decide which path to take on their long country walks in England. But the biographers point to Frost's 1912 letter describing "two lonely crossroads" in "practically unbroken condition," neither "much traveled." Frost, walking one path, is surprised by a man who "looked for all the world like myself, coming down the other"; he expresses wonderment at "this other self" and at some meaning therein, "if we could but have made it out."

In his new study, The Art of Robert Frost, Tim Kendall notes that "The Road Not Taken" is not the optimistic and simplistic life lesson it is often taken for, and that it represents "something of a crisis in his poetics."
---
Daybook is contributed by Steve King, who teaches in the English Department of Memorial University in St. John's, Newfoundland. His literary daybook began as a radio series syndicated nationally in Canada. He can be found online at todayinliterature.com.