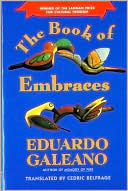 The Uruguayan writer Eduardo Galeano was born on this day in 1940. Galeano's left-wing politics brought over a decade of censorship and exile (to Spain, 1973-85), but he is now one of Latin America's most respected voices. He recently gained some readers in the English-speaking world, too, courtesy of Venezuelan president Hugo Chávez, who raised the author's profile dramatically when he gave U.S. president Barack Obama a copy of Galeano's Open Veins of Latin America as a gift at the 5th Summit of the Americas in the summer of 2009.

Galeano's books range across journalism, history, and fiction, often at the same time; the following passage, from his mixed-genre "literary scrapbook" The Book of Embraces, seems to comment on the region's ignorable status:
Fleas dream of buying themselves a dog, and nobodies dream of escaping poverty: that, one magical day, good luck will suddenly rain down on them—will rain down in buckets. But good luck doesn't rain down, yesterday, today, tomorrow or ever. Good luck doesn't even fall in a fine drizzle, no matter how hard the nobodies summon it, even if their left hand is tickling, or if they begin the new day on their right foot, or start the new year with a change of brooms.

The nobodies: nobody's children, owners of nothing. The nobodies: the no-ones, the nobodied, running like rabbits, dying through life, screwed every which way.

Who are not, but could be. Who don't speak languages, but dialects. Who don't have religions, but superstitions. Who don't create art, but handicrafts. Who don't have culture, but folklore. Who are not human beings, but human resources. Who do not have faces, but arms. Who do not have names, but numbers. Who do not appear in the history of the world, but in the crime reports of the local paper. The nobodies, who are not worth the bullet that kills them.
---
Daybook is contributed by Steve King, who teaches in the English Department of Memorial University in St. John's, Newfoundland. His literary daybook began as a radio series syndicated nationally in Canada. He can be found online at todayinliterature.com.