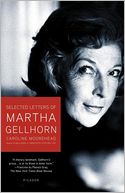 Martha Gellhorn was born on this day in 1908. Ernest Hemingway, married to Gellhorn for five off-and-on years, complainingly described her as a racehorse with two speeds, galloping away and asleep. Gellhorn stayed put long enough to write eighteen books, most of them reflecting the galloping that made her famous — worldwide travel and a half century of war reporting, from the Spanish Civil War to the U.S. invasion of Panama.

Though she seems to have been especially chafed by Hemingway, Gellhorn had difficulty with all her men. Her disinterest in sex had something to do with it: "I was the worst bed partner in five continents," she reflects in a 1972 letter to a friend (a line chosen for the opening scene of the recent biopic Hemingway and Gellhorn). But Gellhorn seems to have simply preferred being on the move or being alone to being in a close relationship; and she did not mind saying so. In a letter to Allen Grover, a lover from the '30s, she admits a longing intense enough that she could "go out and beat my head on the accursed cobblestones of this vile picture postcard town," though she won't: "I consider you as the cream in my coffee, but not my breakfast…. The only terms on which to take you are the installment plan ones."

Some reviewers of Gellhorn's Selected Letters (2006, edited by Caroline Moorehead, author of the 2003 biography Gellhorn: A Twentieth-Century Life) say that her correspondence is her best writing. In a 1944 letter to Grover, with whom she stayed friends, a war- and world-weary Gellhorn refers to her upcoming divorce from Hemingway in his own "Our nada who art in nada…" tone: "I think anyhow get divorced and at least go down alone…without benefit of clergy, a borrowed name, and nothing and nothing besides." A few paragraphs earlier, she had admitted to other feelings, never realized: "On the other hand I want a child. I will carry it on my back in a sealskin papoose and feed it chocolate milk shakes and tell it fine jokes." By letter's close, the despair is back:
And what happened to the fine gilded hopes when one expected to be like other people, with a place to come back to, someone to trust, someone to whom one could say anything without shame: what happened to the desired never existing always comforting loving trusting arms that were to be guarantee forever against nightmares.… Life is as long as war.
---
Daybook is contributed by Steve King, who teaches in the English Department of Memorial University in St. John's, Newfoundland. His literary daybook began as a radio series syndicated nationally in Canada. He can be found online at todayinliterature.com.