A cultivated patch of fertile plots and well-tended prose.
---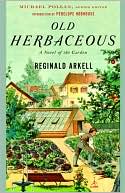 Old Herbaceous:
A Novel of the Garden
By Reginald Arkell
A novel of the garden—can you think of another? Combining the jollity of Wodehouse and the pleasures of a country house tour, Arkell's 1950 tale chronicles Bert Pinnegar's eight decades in an English manor house garden, from his youth as a flower-loving orphan to his old age as an estimable master of the plots. Sheer delight.
---
By Barbara Damrosch
How deep do you plant irises? What kind of soil does asparagus like? How do you plant a tree? Prune roses? Force tulips? Select tools? Damrosch has collected every tidbit of knowledge necessary for gardening success in this straightforward, well-illustrated tome. If you buy one instructional book, this should be it.
---
By Beverley Nichols
"I bought my cottage by sending a wireless to Timbuctoo from the Mauretania, at midnight, with a fierce storm lashing the decks." So begins this most enjoyable and stylish record of one man's garden. Nichols's 1932 memoir of a cottage in the British countryside and its attendant flora has lost none of its droll appeal.
---
By Russell Page
One of the most famous garden architects of his time, Page (1906-1985) designed the gardens at Leeds castle and the grounds of PepsiCo headquarters in Purchase, NY. The poise and purpose of his landscapes large and small were legendary, and similar qualities animate his anecdotal, instructive, and thoughtful reminiscences.
---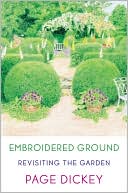 Embroidered Ground:
Revisiting The Garden
By Page Dickey
Celebrated gardener Page Dickey has spent three decades cultivating a plot covering as many acres, now known as Duck Hill. Hovering between a memoir and an artist's detailed record of her life's masterwork, her new book introduces readers to her garden's residents (Pennisetum and an "old-lady pink" Viburnum, dogwood and feverfew) as if they were citizens of a fairy nation. Our reviewer, Peter Lewis, writes "She loves her garden as if it were a child—with joy, distress, responsibility, guilt—which is the most beautiful thing of all." (Click here to see Lewis's BNR review.)