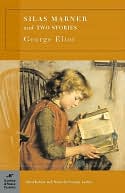 George Eliot's Silas Marner was published on this day in 1861. This third novel in three years was as popular as the earlier Adam Bede and The Mill on the Floss, confirming Eliot's place among the preeminent writers of the day. It also fulfilled Eliot's implied promise, made in an essay published in 1856, just as she turned from reviewing books to writing her own, that she would add nothing to the ranks of "Silly Novels by Lady Novelists":
The heroine is usually an heiress, probably a peeress in her own right, with perhaps a vicious baronet, an amiable duke, and an irresistible younger son of a marquis as lovers in the foreground, a clergyman and a poet sighing for her in the middle distance, and a crowd of undefined adorers dimly indicated beyond. Her eyes and her wit are both dazzling; her nose and her morals are alike free from any tendency to irregularity; she has a superb contralto and a superb intellect; she is perfectly well-dressed and perfectly religious; she dances like a sylph, and reads the Bible in the original tongues.… For all this, she as often as not marries the wrong person to begin with, and she suffers terribly from the plots and intrigues of the vicious baronet…but we have the satisfaction of knowing that her sorrows are wept into embroidered pocket-handkerchiefs, that her fainting form reclines on the very best upholstery, and that whatever vicissitudes she may undergo, from being dashed out of her carriage to having her head shaved in a fever, she comes out of them all with a complexion more blooming and locks more redundant than ever.
The critics note that Eliot's best argument against the overblown romantic novel is her own ability; her Silas Marner is told so realistically, said V. S. Pritchett, that we "follow the people out of the hedgerows and the lanes into the kitchen. We see the endless meals, the eternal cup of tea; and the dog rests his head on our boot or flies barking to the yard."
---
Daybook is contributed by Steve King, who teaches in the English Department of Memorial University in St. John's, Newfoundland. His literary daybook began as a radio series syndicated nationally in Canada. He can be found online at todayinliterature.com.