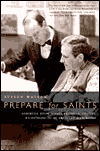 February 8: On this day in 1934, the opera FourSaints in Three Acts by Gertrude Stein (libretto) and Virgil Thomson(music) premiered. The opera was popular, though some attended for the usualStein reasons, hoping for some eccentric fun, or to be present for the launch ofsome freshly-coined Steinism. Others attended the Hartford, Connecticut openingor the later New York run because FourSaints was a modernist event. In Hartford, the production was backed by"The Friends and Enemies of Modern Music," and concurrent with theopening of a Picasso exhibition. The avant-garde artist Florine Stettheimercostumed the all-Negro cast—"a Negro is a Negro," said Stein, "andhe ought to like to be called one if he is one"—in cellophane, newlyinvented. Special trains were organized to take the New York in-crowd toHartford, and Buckminster Fuller took a carful (Isamu Noguchi, Clare BootheLuce, Dorothy Hale) in his bubble-shaped Dymaxion.
Stein did not attend theopening, but Four Saints was such ahit that she overcame her apprehensions about America, arriving that autumn fora six-month lecture tour. It was her first trip home in thirty years, and shewould not make another, but it was seen as a triumph on all sides. She andAlice were news from start to finish, and if some of the headlines poked theusual fun—"Gerty Gerty Stein Stein is Back Home Home Back"—many whomet or listened found her approachable, and fascinated by America. The WhiteHouse invited her for tea, and the famous threw parties in her honor, but sheseemed most interested in the geography, the food, and "ordinary peoplewho don't bore me. Highbrows, you know, always do." These preferences ledto an afternoon at the Yale-Dartmouth football game, hanging out in drugstores, a tour of a spark plug factory, and a delight in the roadside poetry ofthe Burma-Shave ads.
She did enjoy a productionof her Four Saints inChicago. While there, she and Alice were thrilled with a police-conducted,rainy night tour of the slums of the city during which, Stein later recalled,they listened on the squad car radio to the successful entrapment of Baby FaceNelson by federal agents.
---
Daybook is contributed by Steve King, who teaches in the English Department of Memorial University in St. John's, Newfoundland. His literary daybook began as a radio series syndicated nationally in Canada. He can be found online at todayinliterature.com.