Books that put the "beach" in beach read.
---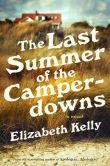 The Last Summer of the Camperdowns
By Elizabeth Kelly
Once again, the wealthy and dysfunctional Camperdown clan makes its annual pilgrimage to Cape Cod for the sea, sun, and relaxation, but during this particular summer, the family finds itself ensnared in a web of unsavory crimes that foretell its imminent destruction. Mixing malcontents and murder in a raucous cocktail, Elizabeth Kelly delivers a hilarious and astute examination of the lives of the rich and restless.
---
By Colson Whitehead
Whitehead's semi-autobiographical fourth novel chronicles the surreal world of Benji, a teenager in the mid-'80s who happens to be the only African-American in a Manhattan prep school, but who spends his summers in a middle-class, all-black community in the Hamptons. The summer months prove sweet, hilarious, and tantalizingly brief, and Whitehead treats this coming-of-age tale — in which questions of race and class loom large — with a light touch and an eye for telling details.
---
By J. Courtney Sullivan
Every summer, the Kellehers descend on their Maine beachfront property, won in a barroom bet just after WWII. It's a grand old place where grandchildren dig through forgotten furniture and discover old secrets. But the grownups hope that certain drawers remain shut, as three generations of Kelleher women have something to hide. From J. Courtney Sullivan, who winningly explored female friendship in her previous novel Commencement, comes a sun-drenched tale of family drama.
---
By Robert McCloskey
McCloskey, a two-time Caldecott winner who brought us such beloved children's classics as Make Way for Ducklings and Blueberries for Sal, here captures the beauty of the ocean, foggy mornings, and the freedom of a summer on the coast. Visceral sensations — of joy as a sailboat clips the waves, of fear when a hurricane strikes — are rendered in beautiful, color-rich pictures that invite readers of all ages to pause and pore over every enchanting page.
---
By Peter Benchley
If the idea of relaxing by the shore seems a little too ho-hum, then pick up Peter Benchley's first novel, published in 1974 and famously adapted for the big screen by Steven Spielberg. The book spent 40 weeks on the New York Times bestseller list, and why not? The author combines the stories of three men's lives with a gripping tale of a summer resort thrown into panic by the arrival of a hungry…well, you've probably heard. Wildly inaccurate when it comes to chondrichthyan behavior, it's the worst PR sharks ever had — and yet a frightfully fun read. Staring out at the waves will acquire a whole new frisson.