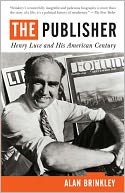 Life magazine debuted at the newsstands on this day in 1936, the half-million copies selling out immediately. Though not the first mass-circulation photo magazine, Life was immediately recognized as innovative, and just a month later, the ten-cent first edition was fetching $3.50. (The entire first issue is reprinted in the just-published retrospective LIFE 75 Years.)

The first photo in the first issue — excluding advertisements for the anti-knock properties of Ethyl gasoline and the comforts of the '37 Plymouth — was of a newborn held up by its heels in the delivery room. The prospectus sent out to the magazine's quarter-million first subscribers, written by publisher Henry Luce, added "all-seeing" to the magazine's "all-new" image:
To see life; to see the world; to eyewitness great events; to watch the faces of the poor and the gestures of the proud; to see strange things — machines, armies, multitudes, shadows in the jungle and on the moon; to see man's work — his paintings, towers and discoveries; to see things thousands of miles away; things hidden behind walls and within rooms; things dangerous to come to; the women that men love and many children; to see and to take pleasure in the seeing; to see and be amazed; to see and be instructed….
Life and the other photo magazines it spawned had their critics. Some lamented "the conquest of the world as picture" (philosopher Martin Heidegger in 1938). Editor John G. Morris says that even those on the inside found it disheartening. The magazine's writers were "notorious for disregarding the facts" and little more than "literary tailors, more in the business of measuring words than writing them." And the only criterion at the photo desk was "impact":
I didn't have to spend long at Life to face the facts: we were entertainers as much as journalists. Photographers worked from "scripts" and stories were "acts." The world's celebrities were our unpaid — and often reluctant — actors. Irreverence was all. The choices we made might be considered amoral, but deadlines couldn't wait on morality. We had to "fill the book" each week. It didn't matter whether we led off with a chorus girl or a cardinal, but there had to be a good mix because the magazine had to sell. (Get the Picture: A Personal History of Photojournalism)
---
Daybook is contributed by Steve King, who teaches in the English Department of Memorial University in St. John's, Newfoundland. His literary daybook began as a radio series syndicated nationally in Canada. He can be found online at todayinliterature.com.