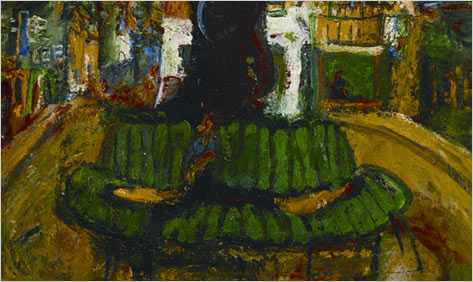 During the last quarter century, every five years or so, Rosanna Warren has offered the world of poetry readers an excellent new book, always fresh but often composed along similar outlines: time spent between Europe, New York, and New England; time spent looking at art or reading the classics against the modern world; and time spent meditating on love and death. These ingredients recur, but listing them does no justice to the lucid strangeness with which Warren recombines them. The books feel personal and public; shifting and questioning; reliant on received beauty and art and also distrustful of it; painterly, in that Warren studied painting seriously before emerging as a poet—and, above all, prismatic, offering us lenses through which we can assemble our own worlds newly. Her best poems place us squarely in a place of refraction: we find bodily experiences (loss, pregnancy, death, joy) angled back at us through meditations on art.
Ghost in A Red Hat, Warren's fifth book, is full of the luminous intellect and savage questioning her readers have come to expect of her, and quite literally builds poems around elements—this time wind, water, earth, fire—casting the poems' human meditations in relief against these organic forms. Written partly on a fellowship at the New York Public Library's Cullman Center, the book is the most present-tense and urban of Warren's work. Indeed, its central masterpiece "Earthworks," is a 14-page-long poem to Frederick Law Olmstead. Crafting a shard-like mosaic to mimic the democratic park-space Olmstead tried to build against the backdrop of the Civil War, the poem, like its subject, is full of an almost evangelical sense of public mission; the park-overseer (like the poem and perhaps like the poet who records it) burns in his struggle to create respite for the rest of us. Olmstead, like the speaker, is an "anthologist of shadows" whose reflections, in passing, might allow us space to see and reflect on our own lives. It's to Warren's credit that the poem—heavily researched, fractured, long—feels both natural and dazzling.
"Earthworks" may be the longest poem, but it's not alone in its great ambitions: there's also a six-page-long poem called "Water Damage," which treats both Schumann and a colleague of Warren's who drowned in the Charles River—and again, it's to Warren's credit that she wears her high culture so naturally it feels like breathing, a kind of human thinking we should all imbibe. Despite these obvious triumphs, it's often the smaller moments from this collection that haunt. In a poem "For D.", a plane "whumps down through rainclouds" and the speaker, losing her friend, notices what we all so often notice, that "friendship is always travel." In "42nd Street," among urban refuse are "old wooden card catalogs" that "tilt every which way, their tongues lolling out/ An earthquake-stricken city emptied of ideas." The speaker—who is clearly still full of ideas—makes "my prayer/ to Nuestra Senora de la Soledad" and drops "Shakti's Paperback Spiritual Guide to Self-Transformation / in the trash with onion peels, melon rinds, / teabags, fishbones, and holiday photos/ of impeccable children."
In her wild collage of art and waste, whipped together by windstorm and fire, Warren succeeds again in making us all hunger to think more, and to feel our mortality more urgently.