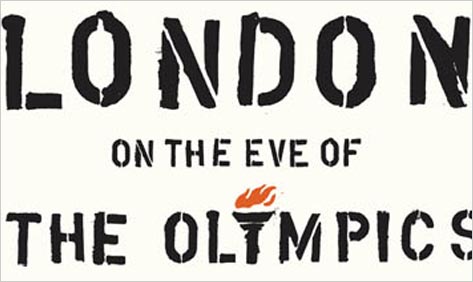 Late in Ghost Milk, Iain Sinclair praises Henry Miller's travel book The Colossus of Maroussi, and it struck me: Sinclair is England's contemporary Miller — without the sex. In more than thirty volumes of fiction, travel writing, and poetry, Sinclair has used, like Miller, an autobiographical "hybrid medium" (his term) to celebrate his own quirky independence and attack what Miller called the "Air-Conditioned Nightmare" of cultural standardization and soul-sucking consumerism. For most of his sixty-plus years, Sinclair has lived in the East London borough of Hackney, an unpretentious, working-class neighborhood from which he has launched idiosyncratic London walks and his attacks on high-concept, top-down redevelopment schemes. When London was awarded the 2012 Olympics, the government chose neighboring Stratford as the site of the Olympic Village. In a grand irony, the inspiration for this book about the monstrous effects of "grand projects" was thrust upon — or handed to — Sinclair.

Like the American urbanist Jane Jacobs, Sinclair has in earlier documentary books resisted politicians' and planners' "progress" that would destroy long-standing local communities and replace vernacular architecture with computer-generated visions. But there was no stopping the Olympics. The only options, Sinclair says, are "Bear witness. Record and remember." So in Ghost Milk he describes what Hackney and Stratford have lost: community gardens, recreation centers and soccer fields, businesses, theaters, and homes. There were also ecological consequences of the grand project. Residents were denied access to the River Lea, which empties into the Thames; and because some of the Olympic site was previously industrial, Sinclair charges that new construction released environmental hazards into the air and water. This is the recent past. If Sinclair's predictions about political profiteering, real estate speculation, and wasteful building are correct, he will have another book to write after the Olympics.

In her Death and Life of Great American Cities, which helped save Greenwich Village from one of Robert Moses's grand projects, Jacobs was impassioned. Sinclair is enraged:
The urban landscape of boroughs anywhere within the dust cloud of the Olympic Park has been devastated with a beat-the-clock impatience unrivalled in London since the beginnings of the railway age. Every civic decency, every sentimental attachment is swept aside for that primary strategic objective, the big bang of the starter's pistol.
What is not swallowed by development is consumed by the media. When Sinclair discovers he cannot walk "without encountering some species of film crew," he responds with the sentence fragments of Miller's characteristic splutter:
Blood-splash forensics. Fashion shoot. Soap opera. Certain pubs, certain stretches of towpath, abandoned hospitals, are quotations: ghost milk. Invasive caravans of wardrobe and catering. Hurtful bursts of light. The priestly attendants in puffa-jacket black. The episodes of yawning, aggressive, public boredom.
The best of Sinclair's 400 pages have this kind of imagistic recording and metaphoric commentary. However, his subtitle, "Recent Adventures Among the Future Ruins of London on the Eve of the Olympics," is only partially correct. He walks around but never breaches the blue fence that encircles the Olympic Village. He passes by it on a long walk along the Thames from its estuary to Oxford, an "adventure" to which he devotes the third of his book's five parts. Part four treats northern English cities that have attempted grand projects, and in the last section, entitled "Farland," Sinclair visits the Olympic cities of Berlin and Athens, then Austin, Texas, and San Francisco.
Although Ghost Milk has a general unity — expanding from Hackney to distant locales — Sinclair's method in individual sections and chapters is impressionistic and, like his walks, wandering. He moves back and forth between his youth as a laborer in Hackney and his present role as remunerated gadfly; between super-specific observation of streets and formal commentary on other artists, particularly J. G. Ballard, who have written about cities; between Sebaldian photographs and transcripts of Sinclair's interviews of filmmakers, photographers, architects, and poets; between maps and mysterious epigraphs from DeLillo, Pynchon, and other writers. Sinclair sums up his excursive and discursive method as "modest distances for torrents of justifying verbiage."

When Sinclair is hot, when his prose is most inflected by Miller and the Beat writers Sinclair prizes, his "verbiage" brings ghosts of the recent past to life and imagines how the living will be turned into shades. On these occasions, Ghost Milk should appeal to readers anywhere, not just, as Sinclair worries, "Hackney-born sentimentalists exiled to the north and far west." But much of this travel book does not travel well outside of England. Sinclair presumes very close knowledge of London neighborhoods, recent architectural history, and involuted political dealings. Are you familiar with the O2 Arena or the Westfield Mall? Sinclair will tell you about these Olympic precursors, but he assumes you know their context. Intensely personal and loyally local, Ghost Milk does not offer an objective or comprehensive socioeconomic analysis of how the upcoming Olympics will affect London as a whole or the country. Instead, Sinclair relies on what he calls "psychogeography" — a term borrowed from the avant-garde writer Guy DeBord — to extrapolate London's "future ruins" from his observations of grand projects in northern England.

I admit to only a passing knowledge of the London that Sinclair traverses. I was, however, living in Athens before, during, and after the 2004 Olympics. While Sinclair is right, in his chapter entitled "The Colossus of Maroussi," that some structures from that event are now ruins, I found Sinclair quite selective in his facts about Athens and often hyperbolic in his interpretations of Olympic effects. He drops into Athens for a few days, visits several sites, and talks to some informants who are brought to his hotel. He spends as much time describing how his wife's bag was stolen as he does, for example, writing about the Piraeus Peace and Friendship Stadium, which he calls a wasteful "naked absurdity." I've been to numerous events both before and after the Olympics in that venue. He visits the Olympic Village in Maroussi when it is empty, but the football stadium there is often filled with fans as rabid as England's. Sinclair says the seaside in Faliron has been despoiled by the Olympic site. In fact, the seaside is lined with recreational facilities, and the site was an abandoned airport. Reading Sinclair's late chapter on Athens, I began to distrust his earlier assertions about London, started to wonder where the "psycho" of "psychogeography" ended and the "geography" began.

Near the end of Ghost Milk, Sinclair reports being asked by someone named Mimi what its title means:
"CGI [computer generated imagery] smears on the blue fence. Real juice from a virtual host. Embalming fluid. A soup of photographic negatives. Soul food for the dead. The universal element in which we sink or swim."

"Crazy, Mr. Sinclair," Mimi said. "Crazy again."
Presumably praising Sinclair, Mimi is about half right. Many passages and sequences have the obsession-fueled vitality and authority of the Miller who titled one of his books Crazy Cock. But since Sinclair also records in pedestrian prose the commonplace, the drab, the failed, and the empty language of bureaucrats, Mimi is also about half wrong. Although British or Anglophile readers may well feel these proportions shift in Sinclair's favor, other readers should not be misled by the claims of Sinclair's subtitle. The English edition of Ghost Milk, published last year, was subtitled "Calling Time on the Grand Project," a more accurate description of the book's contents. The new subtitle is yet another irony emerging from the London grand project: although it enrages the author, it generates his book, and then tempts him to a grandiose claim that will give him a chance to ride along on the Olympic commercial wave he despises.