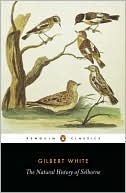 The writer and naturalist Gilbert White was born on this day in 1720 in the village of Selborne, Hampshire. The home in which White was born and lived for all but a few years of his life is now a museum, one that gets as many visitors a year as Jane Austen's in nearby Chawton. As if from an Austen novel, the stay-at-home bachelor curate devoted his life to studying and writing about the birds, plants, and seasons he observed in and about his Selborne parish. His Natural History of Selborne (1789) is in the top handful of bestselling books in the English language — the top seller, if we ignore books sold for religious or syllabus reasons.

White's book is a series of letters sent to two naturalist friends, both of them Royal Society members. The letters offer much closely observed factual detail, related with personable charm — observations upon how a pair of flycatchers hover above their nest, flapping their wings to keep their young cool, comments such as "I have procured some of the mice mentioned in my former letters, a young one and a female with young, both of which I have preserved in brandy." In Gilbert White, his prizewinning 1986 biography, Richard Mabey explains the immediate and enduring appeal of White's book this way:
Choosing as his arena the smallest and most intimate unit of social life, a country village where he lived himself, he showed how watching the natural world at close quarters could generate not just understanding but respect, and an insight into the kindredness of things. It was this blending of the scientific and emotional responses to nature that was White's greatest legacy, and its influence has been far-reaching. It helped foster the growth of ecology, and the realization that humans were also part of the natural scheme. It helped pioneer, too, that affectionate writing about place that has become part of the mainstream of English literature.
White was also a poet, the first lines of his "Invitation to Selborne" opening a friendly door upon the same English countryside he documented in his Natural History:

See Selborne spreads her boldest beauties round
The varied valley, and the mountain ground,
Wildly majestic! what is all the pride
Of flats, with loads of ornament supply'd?
Unpleasing, tasteless, impotent expense,
Compar'd with nature's rude magnificence.
Arise, my stranger, to these wild scenes haste
The unfinish'd farm awaits your forming taste….
---
Daybook is contributed by Steve King, who teaches in the English Department of Memorial University in St. John's, Newfoundland. His literary daybook began as a radio series syndicated nationally in Canada. He can be found online at todayinliterature.com.