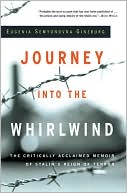 Eugenia Ginzburg died on this day in 1977. Ginzburg spent eighteen years in Russian prisons and work camps, a loyal Communist but a victim of Stalin's purges nonetheless. Released in 1955, she spent the next twelve years on her memoir Journey into the Whirlwind, regarded by many as one of the most readable and affecting accounts of Gulag life.

Journey into the Whirlwind has its ideological moments, but its power comes from Ginzburg's determination to endure, and from the detailed descriptions of the prisoners' daily struggles, which come in infinite variety. On their way to a new, more remote camp, Ginzburg and her fellow prisoners are overjoyed to learn that at the disinfection center they will be allowed to bathe. The women disrobe in a room with a wall-sized mirror, the first they had seen in three years: "Hundreds of anxious, mournful eyes, all searching for their own reflection in the bluish glass.… I recognized myself only by my resemblance to my mother." Soon the price of the bath becomes clear, and the naked women are forced to parade past their wardens in order to reach the showers. When one of them is singled out by the Brigand for special scrutiny, she finds a way to outfox and inspire:
"Starosta of Number 7, stand before me like a blade of grass!" he bellowed, his mischievous, roving eyes glistening with anticipation. The naked Fisa duly stood before him. As she did so, a murmur of admiration spread through the crowd of women. None of us in the car had paid any special attention to Fisa's hair, which she wore combed back tightly behind her ears and coiled in a bun. But now her red hair fell freely in flowing locks, covering her body down to her knees…. "Starosta of Car Number 7 reporting, Citizen Officer!" she announced in her deep voice, holding her hair across her breast as if it were a scarf she had thrown over her shoulders.
In 1967, Journey into the Whirlwindhad to be smuggled out of Russia and published in the West; in 1989, when Moscow's Sovremmenik Theatre dramatized the memoir, the standing ovation went on for twenty-four minutes.
---
Daybook is contributed by Steve King, who teaches in the English Department of Memorial University in St. John's, Newfoundland. His literary daybook began as a radio series syndicated nationally in Canada. He can be found online at todayinliterature.com.