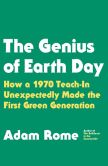 The first Earth Day was observed across the U.S. on this day in 1970. Though sometimes theatrical and alarmist — activists dumped oil-coated ducks at the Department of the Interior and dragged a net full of dead fish through downtown New York — most events were affirming in a '60s, be-in, "Give Earth a Chance" fashion. The April 22 date, recently supported by a UN resolution, is now observed in almost 200 countries around the world.

Adam Rome's The Genius of Earth Day describes the inaugural event and "the first green generation" as a convergence of political will, counterculture enthusiasm, ecofeminism, and influential reading. Prominent in the latter category was John Kenneth Galbraith's 1958 bestseller, The Affluent Society,which foresaw a steep price for unchecked prosperity:
The family which takes its mauve and cerise, air-conditioned, power-steered, and power-braked automobile out for a tour passes through cities that are badly paved, made hideous by litter, blighted buildings, billboards, and posts for wires that should long since have been put underground. They pass into a countryside that has been rendered largely invisible by commercial art…. They picnic on exquisitely packaged food from a portable icebox by a polluted stream…. Just before dozing off on an air mattress, beneath a nylon tent, amid the stench of decaying refuse, they may reflect vaguely on the curious unevenness of their blessings. Is this, indeed, the American genius?
But most regard Rachel Carson's Silent Spring (1962) as the book that kick-started the modern environmental movement. In his recent biography, On a Farther Shore: The Life and Legacy of Rachel Carson, William Souder describes a historic presidential press conference in which, responding to a reporter's question, JFK endorsed "Miss Carson's book" and signaled his intention of acting upon it:
In this brief exchange something new came into the world, for this was a cleaving point — the moment when the gentle, optimistic proposition called "conservation" began its transformation into the bitterly divisive idea that would come to be known as "environmentalism."… Compared with the other matters Kennedy had discussed that day — policies that would evolve, situations that would change and fade away — a problem with the health of the environment became by definition a problem with the totality of human existence. At issue was humanity's place in the natural order of a world increasingly subservient to the human species. Who but us could devise so perfect a way to contend with ourselves?
---
Daybook is contributed by Steve King, who teaches in the English Department of Memorial University in St. John's, Newfoundland. His literary daybook began as a radio series syndicated nationally in Canada. He can be found online at todayinliterature.com.