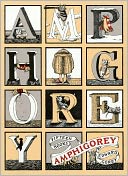 Edward Gorey was born on this day in 1925. Although no full-length biography has emerged to date, a dozen years after his death, glimpses of the odd and enigmatic Gorey are available in several recent books. Peter F. Neumeyer's Floating Worlds (2011), a collection of his correspondence with Gorey (the letters mostly from 1968–69, while the two were collaborating on several of Neumeyer's children's books) both informs and forewarns those seeking the author's full portrait:
Just who Edward Gorey's inner self might have been remains highly conjectural. Quotidian "reality" was problematic for Ted, and so he was not entirely joking when he signed one letter "Ted (I think)" and wrote in another, "There is a strong streak in me that wishes not to exist and really does not believe that I do."
Alexander Theroux's The Strange Case of Edward Gorey, reissued in 2011 in expanded form, is a scattering of title-confirming snapshots, these recollected from their thirty-year friendship:
When he was not petting a cat, dramatic gestures, along with heavy sighs or moans, almost always accompanied his highly various conversation. He would chatter on with a kind of fey, self-amused intolerance of things, squawking through a very pronounced sibilance in moments of both delight and exasperation with his own slang expressions, like "Not on your tin-type!" "Snuggy-poos, desist!" — when addressing his cats — "Talk about loopy!" "What is that blather about?" He would break into almost Japanese fits of giggling. Whenever I went into one of my rants on whatever subject and was on a roll, he would usually sit there without saying a word, amused, to hear me out, then ask, "Now shall we have a rum shrub?" He himself was constantly coming out with neo-Firbankian remarks like, "I'm a great one for drift" and "Oh please don't, I would rather be smothered in bunny fur!"
Gorey was completely uninterested in bunny-cuddly, or in making his "strange case" books less so: "I generally feel that what you see is what you get, but all those who want to read something into them, poor bunnies, then they can." Theroux does recall one conversation in which Gorey, asked "why he thought that stark violence and horror and terror were the uncompromising focus of his work," ventured this elaboration: "I write about everyday life."
---
Daybook is contributed by Steve King, who teaches in the English Department of Memorial University in St. John's, Newfoundland. His literary daybook began as a radio series syndicated nationally in Canada. He can be found online at todayinliterature.com.