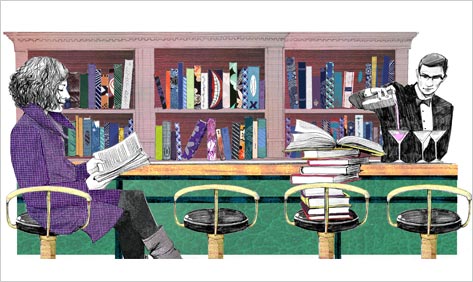 AN IMPORTANT ANNOUNCEMENT FROM THE EDITORS:
It's been a wild ride, but sadly Grin and Tonic will cease web publication starting tomorrow. The website and all of its content have been purchased by the TriFoil Investment Group and the new leadership has decided to cease publication of Grin and Tonic, at least on a digital platform.
TriFoil Investment Group had expressed interest in the site since day one, and after a year of negotiations the deal was reached. The group sees profit potential in not only bringing Grin and Tonic to the printed page in the form of paper newsletters, but plans to franchise the name to local editors who will oversee the content on a more regional scale.
Those interested in starting their own Grin and Tonic franchise should contact the TriFoil Investment Group or its parent company, Canadian Missile Logistics. The franchise fee is reported to be roughly $200,000 for rural areas, and $550,000 for urban locations, and they will supply you with one computer, a printer, and three reams of mid-quality printing paper as well as a list of possible shipping and distribution methods. All of this will be explained during the eight-week orientation program at the new Grin and Tonic headquarters in Sarasota, FL.
The new direction of Grin and Tonic will take is an exciting one. Instead of covering national trends, Grin and Tonic will focus its satirical eye on local trends. A proof of concept issue features the prominent headline "Traffic Cones" and the article jibes at Arthur Radley's ice cream shop located smack in the middle of the Mill Creek Rd. construction project. It's both hilarious and moving, but you won't understand the joke unless you're from there and know Radley's unique accent and folksy mannerisms.
In a statement, a spokesperson for TriFoil Investment Group said: "We're eager to explore local revenue and speak directly to our audience." TriFoil Investment Group also owns Springhouse Inline Skates, which now publishes the country's fifth most popular telephone directory.
The localized editions of Grin and Tonic will be available either through mail order subscription, fine retailers, or wherever newsletters are sold. The price for each two-color issue will be $4.90, and each region will publish between 10 and 26 issues annually.
The current editors and writers at Grin and Tonic would like to thank you all for the years of support. Many of the contributors will relocate and act as consultants for the new print versions of the newsletter, so if you live in Duluth, MN you'll still see my name from time to time in the pages of G&T. (Does anyone know a good place to get seafood in Duluth?)
All previous Grin and Tonic articles will be taken off the website, of course, but the content can still be found in the hardback version (release date Holiday Season 2015).

It's with a great "grin" and toast of "tonic" that we all say thank you. Cheers!
Dan Bergstein is currently en route to Duluth via ship.