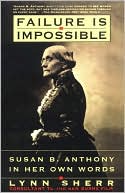 March 15:Funeral services were held in Rochester, New York for Susan B. Anthony on thisday in 1906, with an estimated crowd of 10,000 lining up to pay their respects.Anna Howard Shaw, the last to speak at the church service, expressed outragethat, a few days before her death, Anthony should have had to lament, "Ihave struggled for sixty years for a little bit of justice and die withoutsecuring it." Shaw's eulogy then forged a new rallying cry for thesuffrage movement:
Her talismanic words, thelast she ever uttered before a public audience, 'Failure is impossible,' shallbe inscribed on our banner and engraved on our hearts.
But the ringing rhetoric ofthe church service seems outdone by the improvised events which followed it.Thousands had been unable to view the casket before the funeral started, andhad been standing outside the church in a raging snowstorm, waiting for theprocession to the cemetery. Someone decided that they should be welcomed insideand given their chance for a last glance at "Aunt Susan":
Every seat in the churchwas filled, but no one stirred. Tramp, tramp, tramp, came an army in singlefile, marching with quick but decorous step up one aisle, past the casket anddown the other aisle. People who had sat calmly through the whole service brokedown and sobbed as this living stream went by. It was a biting storm with asearching wind, and as the people came in, old and young and little children,the snow covering their shoulders, clinging to their hats, blown through theirhair, it was evident enough that no mere curiosity had held them in that fiercestorm for an hour-and-a-half waiting for this privilege. They were the plainpeople, the people whom Abraham Lincoln and Susan Anthony loved, and whoreturned that love without making many words about it.
Below, the concludinglines to Gertrude Stein's opera, TheMother of Us All; at this point Anthonyis a statue in the Capitol building in Washington, but still working the cause:
Life is strife, I was amartyr all my life not to what I won but to what was done.

(Silence)

Do you know because I tellyou so, or do you know, do you know.

(Silence)

My long life, my longlife.
---
Daybook is contributed by Steve King, who teaches in the English Department of Memorial University in St. John's, Newfoundland. His literary daybook began as a radio series syndicated nationally in Canada. He can be found online at todayinliterature.com.