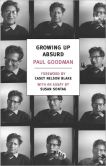 Every advanced country is overtechnologized; past a certain point, the quality of life diminishes with new "improvements." … There are ingenious devices for unimportant functions, stressful mazes for essential functions, and drastic dislocation when anything goes wrong, which happens with increasing frequency. To add to the complexity, the mass of people tend to become incompetent, and dependent on repairmen. Indeed, unrepairability except by experts has become a desideratum of industrial design.
–Paul Goodman, who died on this day in 1972; although most famous and influential for his work on educational reform (Growing Up Absurd, et al.), Goodman wrote widely on many social issues, the above excerpted from New Reformation, his last book
---
Daybook is contributed by Steve King, who teaches in the English Department of Memorial University in St. John's, Newfoundland. His literary daybook began as a radio series syndicated nationally in Canada. He can be found online at todayinliterature.com.