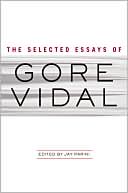 Gore Vidal was born on this day in 1925. The latest of his sixty-three books is another collection of essays, though only three of The Selected Essays of Gore Vidal (2008) have not already appeared in earlier collections. Many say it is his best genre, and it is hard to find a page that does not strut and bristle in his characteristic style. The excerpt below is from "The Top Ten Best Sellers," a 1973 essay in which Vidal reflects on his brave attempt to read all ten of the books atop the best seller list posted in the January 7 edition of the Sunday New York Times. The essay opens anecdotally, in Hollywood — the only suitable venue for Vidal's thesis that most of the top ten books are connected more to the movies that to literature, and to mostly bad movies:
The last time I saw Dorothy Parker, Los Angeles had been on fire for three days. As I took a taxi from the studio I asked the driver, "How's the fire doing?" "You mean," said the Hollywoodian, "the holocaust." The style, you see, must come as easily and naturally as that. I found Dorothy standing in front of her house, gazing at the smoky sky; in one hand she held a drink, in the other a comb which absently she was passing through her short straight hair. As I came toward her, she gave me a secret smile. "I am combing," she whispered, "Los Angeles out of my hair." But of course that was not possible. The ashes of Hollywood are still very much in our hair, as the ten best sellers I have just read demonstrate.




***
I have listened to writers who had a book published shudder with horror at the very mention of Hollywood — some of them have even asked me if I would even listen to an offer from Hollywood — if I could possibly submit my artistic conscience to the prostitution of allowing anything I'd written to be bought in Hollywood, made into a moving picture by Hollywood. My answer to this has always been an enthusiastic and fervent yes. If Hollywood wants to prostitute me by buying one of my books for the movies, I am not only willing but eager for the seducers to make their first dastardly appeal. In fact, my position in the matter is very much that of the Belgian virgin the night the Germans took the town: "When do the atrocities begin?"

—from "Writing and Living," by Thomas Wolfe, born on this day in 1900
---
Daybook is contributed by Steve King, who teaches in the English Department of Memorial University in St. John's, Newfoundland. His literary daybook began as a radio series syndicated nationally in Canada. He can be found online at todayinliterature.com.