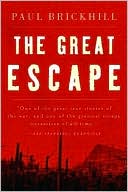 March 24:Two storied events of World War II happened on this day in 1944: the GreatEscape from Stalag Luft III and the Ardeatine Caves Massacre in Rome.Especially as told in the 1963 film TheGreat Escape, that manoever is usually offered as a testament to Alliedpluck and ingenuity, the against-all-odds moral victory emphasized over thefact that only three men reached freedom, and half of the recapturedseventy-three escapees were executed.
As the Stalag Luft III POWswere crawling to momentary freedom south of Berlin, 335 arbitrarily selected ItalianPOWs, prison inmates, and ordinary citizens were being executed in Rome.Ordered by Hitler, the executions were payback, at a 10 to 1 ratio, for somethree dozen German soldiers killed in a partisan ambush the previous day. The Order Has Been Carried Out,one of the books in the Palgrave Macmillan Oral History series, places thestory of the Ardeatine Caves Massacre in a wide context, reaching back to thevictims' ancestors and ahead to their descendants. Below are excerpts from thecentral chapters dealing with those who felt the immediate horror andheartbreak of March 24th:
A witness to the selectionand removal of those chosen to die:
I started screaming: "Murderers!"I realized right then that they couldn't be going to work, it was a slaughter,not a retaliation. And all the jail echoed back: "Murderers…" Thejail called out: "Murderers!"
One of the German soldiersordered to shoot:
A few minutes later I sawfive more civilians escorted along the tunnel by five Germans. These civiliansalso had their hands tied behind their backs, they were forced to kneel besidethe heap of corpses. …Captain Clemens then ordered us to raise our guns andfire on the prisoners. I raised my gun but was too afraid to fire. …Seeing thestate I was in, another German pushed me aside and fired on the prisoner whom Iwas supposed to shoot.
From a poem by LiaAlbertelli, wife of one of those shot, describing the search for the victims:
We hold on to one another

Hand in hand.

A few brides

And with us is a sisterand a mother.

At the end of a cave risesa tall heap.

We climb

And the earth opens underour steps.

From the broken clods abursting wind assails us

Its heavy breath harderand harder.

One of us gathers ablood-clogged strand of hair.

Her desperate scream hurlsus to the earth.

We are there, underground,and we tread with our feet

Upon the fathers of ourchildren.
---
Daybook is contributed by Steve King, who teaches in the English Department of Memorial University in St. John's, Newfoundland. His literary daybook began as a radio series syndicated nationally in Canada. He can be found online at todayinliterature.com.