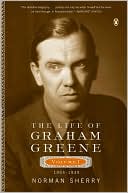 October 2: On this day in 1904 Graham Greene was born. According to Norman Sherry, author of the authorized, three-volume biography, Greene's worldview was formed primarily at his boarding school in Berkhamsted. Greene was shy, sensitive, unathletic, and the son of the headmaster; the teasing and sneering he received from the other boys led to such torment that he ran away, attempted suicide, and entered psychoanalysis. Such early experiences, says Sherry, shaped the fictional "Greeneland" in which Greene's fringe-dwellers, wanderers, secret agents, and tortured souls struggle to live.
As part of his research, Sherry went to Berkhamsted School, and to Malaysia to interview Greene's former schoolmates, and to the Congo. Equipped with a map on which Greene had underlined his world travels in red, Sherry went to virtually every other place Greene went, and had some equivalent experiences—in Mexico, "I contracted dysentery in exactly the same mountain village, living in the same boarding house he had done."
Ironically, some of the best clues to Greene's enigmatic and private personality were at home, in his personal library. Those who examined Greene's books prior to their sale after his death conclude that "the key that unlocks the heart of Graham Greene … is the cornucopia of personal annotation, reflecting a long life of writing, politics, travel and sex, that's scattered along the margins and jotted on the endpapers of the books he was reading." Some of these annotations are by others, notably Catherine Walston, the American wife of the Labour peer Henry "Harry" Walston—the mysterious "C," with whom Greene had a long, passionate affair. Greene worked for the British Secret Service for years and, as McCrum puts it, Walston acquired Greene's "taste for subterfuge":
In a copy of Wilde's De Profundis ("with love, Ritz December 2-4, 1949") she concludes a long dedication with this coded message: "1. PTMP 2.ILYB 3. SIMB 4.ROF 5. LLEOFE 6. ILY 7. IHGOOTB." Other inscriptions recall ocean nights, Armagnac on villa patios, and opium smoked in the hotels of the East. In one of Greene's volumes of Kierkegaard there's a set of Scrabble scores for C and G. A dedication, dated Christmas, 1949, in The Life of Benvenuto Cellini gives a tantalizing snapshot of their romance: "How happy I was today in Cambridge buying roller skates and drinking Irish whiskey…."
---
Daybook is contributed by Steve King, who teaches in the English Department of Memorial University in St. John's, Newfoundland. His literary daybook began as a radio series syndicated nationally in Canada. He can be found online at todayinliterature.com.