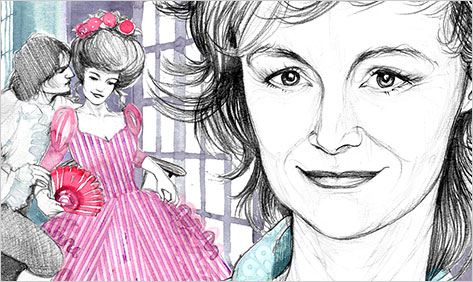 Juliet proposed marriage to Romeo at 13 years old. My 13-year-old son would not make a great spouse: he can only cook waffles and has to be reminded to bathe. The disparity points up a clash in our cultural concept of romance: we idolize young love.

My son is very fond of "Hey There, Delilah," a love song to a girl still in school. He croons along as Tom Higgenson of the Plain White T's promises Delilah, "Our friends would all make fun of us and we'll just laugh along because we know / That none of them have felt this way."

You have to be really young to believe that your love is stronger than time, let alone the humiliation of being laughed at. But one of the promises of romance fiction is just that — that the story at the heart of the book will leave the reader with the absolute certainty of youth, of the Plain White T's singing that the "world will never be the same."

This poses a problem for romance writers: how do you bring together the crucial desirability of maturity with the delicious dream of forever-after? One way is to depict the heroine growing up. Becoming someone worth crooning about. Getting past 13, and all the undesirable traits of teenagers. This column is about romances in which the heroines start out as na‹ve — and grow up as they fall in love. Academic lingo for this sort of novel is a Bildungsroman, a story of individual development. Romances of this type face a double challenge: the heroine has to grow in maturity, and that maturity itself must lead to love. In other words, Cinderella isn't just waiting for a new dress and a prince. These are romances in which Cinderella is no princess — in the beginning, anyway. And what's more, these are romances in which the hero recognizes the heroine's foolishness — and laughs at her. Now, that is tricky for a romance author! Only the very best can manage to move a relationship from pointed laughter to respectful love. Here follows a lineup of great books that chart this course.

I'm going to start with a very early example. (I'm a professor as well as a romance writer, and sometimes the academic impulse is overwhelming.) One of the earliest English novels is Frances Burney's Evelina. A smash hit back in the 1700s, Evelina tells the story of a young lady who falls in love with the delightful and handsome Lord Orville. But Evelina starts out a rather na‹ve twit. She's mortified by her vulgar grandmother, plagued by a rake, and disowned by her father (at first). In short, the road to maturity is paved with humiliation. If you're up for a melodramatic and funny read, with fascinating details about the period, this is a terrific choice.

Judith McNaught's Something Wonderful is close to a modern version of Evelina, in that it starts with an extremely na‹ve heroine who learns through mortification what real love looks like. On marrying the powerful Duke of Hawthorne, Alexandra Lawrence instantly tells herself that she's utterly in love. He's about to dump her in the country when he's kidnapped. Once he's declared dead, she returns to London to find out that he had a mistress, laughed about his inconvenient marriage, and clearly thought she was a ninny. Hello, adulthood! Part of the narrative pleasure of these romances is reading scenes in which a heroine comes face to face with her own foolishness (Evelina, for example, lies about a dance with Lord Orville, only to have him call her bluff).

One more novel featuring a na‹ve heroine: Linda Howard's Open Season depicts a dowdy, small-town librarian who remakes herself into a sex bomb (ankle bracelet, blonde hair, and all). Characteristically, she makes some wildly foolish choices, such as hanging out in a roadside bar frequented by a serial killer — but the core of the story has to do with Daisy Minor taking control of her life. Owning it. As for almost castrating a guy, getting thrown out of a night club, and constantly rubbing a gorgeous police chief the wrong way?well, that's part of growing up.

So far I've been talking about young heroines. But the truth is that we don't all go through the rigors of growing up as teens. Some of us come to it older. Some of us — ahem — never get there at all. The next three romances feature heroines who have maturity pushed on them later in life. Here the challenge to the author is even greater: how do you make the reader fall in love with a woman who doesn't have youth as her excuse? Na‹vet' is charming in early life; asinine is the label that applies later on.

Connie Brockway's Skinny Dipping brilliantly surmounts these problems. Mimi Olson has spent her nearly 40 years drifting around a Minnesota lake, when not answering phones for a spiritualist hotline, "Straight Talk from Beyond." But when the family's lake place is going to be sold unless Mimi takes responsibility, and she simultaneously gets stuck caring for a mangy dog, an angry nerd, and his injured, sexy millionaire father, things get funnier and funnier. Mimi is a snappy, witty heroine. You'll find yourself rooting for her to stop making out with the millionaire like a teenager in the back seat and grab hold of her destiny. Connie Brockway is one of those rare authors who can make you laugh aloud while you're wincing: don't miss this book.

Sugar Beth Carey, in Susan Elizabeth Phillips's Ain't She Sweet?, is the opposite of na‹ve. She's battle-worn, tired, and heartbroken. This novel starts on the far side of her girlhood, which she spent as a spoiled rich girl. Now Sugar Beth has to go back to the small town where she reigned supreme — ruining several lives in the process — broke and desperate. Sugar Beth's story will make you squirm, and then cheer for her. Not to mention cheering for the brilliant teacher and writer whose life Sugar Beth wantonly destroyed — and who holds the key to forgiveness. Both Phillips and Brockway depict relationships that aren't possible among the very young: the kind of relationships that weather laughter and defeat.

Barbara Samuel's Madame Mirabou's School of Love comes at the same problem on a more somber key. After Nicole Bridges's marriage falls apart, she ends up in an apartment complex labeled Splitsville, her perfect life in shards around her. Things improve when Nikki meets a charming man from London, but it's not until she faces up to her own ambitions, put aside for her autocratic husband, that she turns into a person worth loving. And, naturally, she falls in love even as (oh, the deliciousness of it) the deserting husband is realizing the error of his ways.

The romance genre is often impugned (a lovely word for "criticized") for presenting a fantasy. But every one of these novels, from Evelina, published in 1778, to Skinny Dipping, published this month, show women who fight their way clear of the fantasy offered by our culture — that a girl of 13 is a fine person to fall in love with, and that a relationship between two immature people will last for ages. Shakespeare knew it could only end in heartbreak: that's why he made Juliet so much younger than she was in his source. Even the Plain White T's know it, because a song drenched in that much nostalgia implicitly admits that Delilah won't be around "till death do us part."

But what about a woman who knows herself, and who has fought her demons and defeated them? When that woman falls in love, it may well be forever. And the delicious satisfaction, the sigh at the end of reading these novels, comes from the fact that forever is even better when it's believable — and hard won.