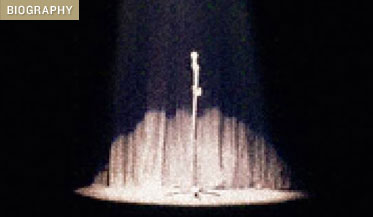 For a stripper who died almost forty years ago, Gypsy Rose Lee enjoys enviable name recognition. She has the musical Gypsy to thank, of course: the Broadway adaptation of her autobiography, with music by Jule Styne and lyrics by Stephen Sondheim, has made her as immortal as Sky Masterson from Guys and Dolls or Tony and Maria from West Side Story. The downside of this kind of legend, however, is that Gypsy threatens to seem as fictional as those other characters. The reality of the woman who was born Louise Hovick is all the harder to grasp because there is no adequate record of her celebrated routines. No Hollywood studio, in her 1930s heyday, was willing to put a naked stripper on screen.

The closest we can come to seeing what drove audiences wild is a sequence from the 1943 movie Stage Door Canteen, in which Gypsy does an extremely G-rated version of her signature act, "A Stripteaser's Education." Watching the clip (it's available on YouTube) is a strange experience: Gypsy opens a button on her collar, wriggles a petticoat from under her tent-like dress, then slips off the stage, still wearing more clothes than the average schoolteacher does today. The movie winks at its own timidity, when one of the soldiers in the audience yells out, "Take off what you did in Star and Garter!" — the lavish Broadway review in which Gypsy had stripped, for real, the year before. "Take that off, boys? I'll catch cold!" she replies.

In Gypsy: The Art of the Tease, her brief new biography, theater historian Rachel Shteir tries to show us more of Gypsy than the censors would allow — if not of her body, then of her mind and spirit. Indeed, Shteir's real purpose in writing about Gypsy Rose Lee is to convince us that her body, while it may have been the vehicle that carried her to fame and fortune, was the least interesting thing about her. In Shteir's hands, Gypsy becomes a working-class heroine, a feminist role model, a pioneer of contemporary sexuality, even an American icon. "Despite women's liberation, the sexual revolution, and modern pornography's ubiquity," Shteir writes, "her striptease and persona still interest American women as a physical act, a metaphor for self-revelation, a popular art, and a way to immortality."

In keeping with this racily hagiographic approach, nothing is allowed to dent the stripper's halo. Did Gypsy choose to buy a Bouguereau nude when she could have had a Gauguin? Shteir explains that "rather than proving her bad taste this demonstrates her interest in extending her persona into a brand" — the brand, presumably, being nakedness. Did Gypsy frequently lie about her past, making up her biography as she went along? Then "her dedication to revising her own story shares the improvisatory verve of a character in the Pirandello play Six Characters in Search of an Author."

Yet the story Shteir tells does not comfortably support such elevated interpretations. What comes across most clearly in this chronicle of burlesque houses and Follies numbers, Hollywood sets and carnival midways, is not Gypsy's uniqueness but her archetypicality. She was a classic, now-vanished showbiz type — a trouper, a plugger, willing to do whatever it took to stay in the spotlight. For such a performer, talent, not to mention genius, is a secondary concern. Near the end of Gypsy: The Art of the Tease, Shteir quotes her subject admitting: "Sometimes you have no specific talent. I have a talent for life, for living. Oh, I could have been a second rate actress . . . instead I've channeled my mediocrity."

Yet Shteir is convincing when she argues that the particular ways Gypsy "channeled" her ambition were, if not revolutionary, at least surprising and challenging. Over the years, Gypsy offered or invented several accounts of how she got into stripping. It was in Toledo in 1929, or in Kansas City in 1930; she was filling in for a stripper who was too drunk to go on, or she was already onstage when her shoulder strap slipped and she decided to run with it. Such variety is only to be expected from a woman who variously gave her birth date as 1908, 1911 and 1914 — meaning that she could have been as young as fifteen, or as old as twenty-two, when she did her first striptease.

However or whenever it happened, stripping made Gypsy a star, in a way that her nightmarish career as a child performer never had. (The Hovicks — mother Rose, sister June, and Louise — "ate dog food, lived in a tent at the town dump, and pawned their belongings," Shteir writes, in their futile quest to make it big in vaudeville.) For a few years she played burlesque houses, which Shteir tends to romanticize as proletarian havens: "Burlesque made sex real and funny." But they were also, she acknowledges, dirty places, in both senses of the word, where men in the audience masturbated under newspapers. The grit was what attracted slumming intellectuals like Henry Miller, who saw Gypsy at the Irving Place Theatre in New York in 1935. She was performing a number called "Give Me a Lay": "She had a Hawaiian lei in her hand and she was telling how it felt to get a good lay, how even mother would be grateful for a lay once in a while. She said she'd take a lay on the piano, or on the floor."

But this kind of lowbrow joking is not what made Gypsy famous, or allowed her to graduate from burlesque to Broadway revues and even, briefly, Hollywood. She was celebrated, rather, as "the Striptease Intellectual," a reader (and even writer) of books, who seemed a bit bored at having to be onstage at all. Shteir quotes the lyrics of "A Stripteaser's Education":


Now the things that go on in a strip-teaser's mind
Would give you no end of surprise,
But if you are psychologically inclined
There is more to see than meets the eye.
For example, when I lower my gown a fraction,
And expose a patch of shoulder,
I am not interested in your reaction,
Or in the bareness of that shoulder.
I am thinking of some paintings
By Van Gogh or by Cezanne,
Or the charm I had in reading Lady Windermere's Fan.

It seems a slender reed to hang a career on, but it worked. In the 1930s, Gypsy became a craze — profiled, imitated, invited to society parties, she was the inspiration for a ballet by Balanchine (Slaughter on Tenth Avenue) and a musical number by Rodgers and Hart ("Zip" from Pal Joey). Eventually she became a true celebrity — that is, someone famous for being famous; when she was too old to strip, she hosted talk shows or did walk-on parts on TV. By the end of Shteir's book, it seems that Gypsy's major accomplishment was just to have survived in the business for so long. The best summary of her life comes from Sondheim, but not, ironically, from Gypsy. Rather, she is like the aging actress in Follies who sings "I'm Still Here":


First you're another sloe-eyed vamp
Then someone's mother, then you're camp
Then you career from career to career —
I'm almost through my memoirs, and I'm here!