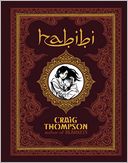 A recently released impressive twelfth printing of Craig Thompson's award-winning graphic novel Blankets from Top Shelf Productions should afford those readers who have not yet discovered this fine artist a chance to be astonished, warmed, surprised and amused by his hefty masterpiece, just as the original audience was in 2003, after which they quickly and unanimously accorded this accomplished graphic novel a raft of prizes.
Blankets flips adroitly and tellingly back and forth between Thompson's middle childhood and his teen years, with a coda venturing into adulthood, itemizing with delicate particularity his family relations (annoying younger brother Phil; parents locked into an evangelical worldview) and his first love affair with a girl his age named Raina (winsome budding poet saddled with divorcing parents and demanding adopted siblings, and living a long distance from Craig's home state). Blending a fine-honed mimesis with spurts of fantasy and surrealism erupting at choice symbolical moments in the story, Thompson's tale featured pages laid out with a fluidity and ingenuity worthy of Will Eisner. His character designs were evocative and beguiling; even in crowd scenes the walk-on characters exhibited closely observed faces and stances. His plotting showed assurance and subtle strength. Overall, the book betokened further triumphs ahead.
Now Thompson returns with Habibi, as different from Blankets as could be, but nonetheless evocative of the same intelligence, compassion, creative range, and skills.
Habibi joins the ranks of some recent graphic novels focused on Middle Eastern situations. Of course Marjane Satrapi's Persepolis and Persepolis 2 have a high profile. But there's also Joe Sacco's Palestine, Brian Vaughan's Pride of Baghdad and G. Willow Wilson's Cairo. And a decade prior came Pat McGreal's Veils.
Thompson's tale takes place in the desert kingdom of Wanatolia, and it's a curious realm indeed. On the one hand, camel caravans continue to cross the desert in immemorial fashion, slaves are bought and sold, and a sultan straight out of the 1,001 Nights maintains a lush harem, complete with eunuchs and viziers. On the other hand, oil pipelines thread the sands, people wear mirrorshades, and a giant hydroelectric dam and a sprawling modern metropolis form important venues. This hallucinatory timeslip quality of the narrative, as our protagonists drift back and forth across eras without acknowledging the strangeness of their condition, is a vital and delightful part of the storytelling, betokening the mythic eternality of the themes and life passages.
We begin with child bride Dodola, and follow her through a series of wrenching misadventures, culminating in her residence in a desert-stranded derelict ship that serves as meager refuge from the oppressors who would bind her. She has adopted another orphan, a boy named Zam, and their intermittently intertwined destinies over the next several years, as they are separated and then reunite, will consist of an Ali Baba's-cave's worth of miracles and disappointments, losses and epiphanies, all delivered with incredible levels of detail and interspersed with tellings of various relevant stories from all three Abrahamic religions. Thompson has plainly done an immense amount of intimate research with the cultural and linguistic traditions of the actual Middle East, and conveys an intense respect for and comprehension of the region.
While the storytelling is gripping, surprising, and emotionally and intellectually hard-hitting, it almost takes a back seat to the artwork that is alternately robust and fragile. Thompson's deft, assured lines have never been more delicately and profoundly inked than here. Besides the aforementioned Eisner influence, his work also evokes that of Los Bros. Hernandez, and Paul Pope. But beyond mere depiction of action and form comes the page design, which features one startling innovation after another in a cornucopia of layouts. Much play is made with Arabic calligraphy, with alphabetical characters sporting and writhing like living things, forming structural and biological and landscape elements. Capitalizing on the tradition of Moslem geometric designs, Thompson adorns his pages like some medieval illuminated manuscript. His splash pages (the comics term for wall-to-wall single images) are particularly striking, and the savvy reader will chuckle at the one on page 429, which features a literal "splash." This book is a monument of intelligent, vibrant design, all in service to the story.
After their epic hegira, Dodola and Zam reappear on the penultimate page as children. While their childhoods were far from idyllic, the spiritual potentials and innocent love of their younger years has been reaffirmed in the face of adult trials: a goal, Thompson tells us, that is every individual's high aspiration.
Editor's Note: After reading this review, we had to see some of Craig Thompson's art. If you feel the same way, check out this Process Gallery.
---

Paul Di Filippo's column The Speculator appears monthly in the Barnes & Noble Review. He is the author of several acclaimed novels and story collections, including Fractal Paisleys, Little Doors, Neutrino Drag, and Fuzzy Dice.