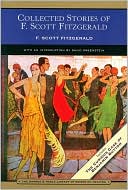 F. Scott Fitzgerald was born on this day in 1896 in St. Paul, Minnesota. In her introduction to The St. Paul Stories of F. Scott Fitzgerald (2004), Patricia Hampl notes the letterhead that Fitzgerald had made up for his stationery in the early 1920s:
F. Scott Fitzgerald
Hack Writer and Plagiarist
St. Paul, Minnesota
Although often couched in humor, such doubts and self-deprecations, say Hampl and other biographers, persisted throughout Fitzgerald's career, contributing to the back-beat of failure that ran through both his personal life and writing. Several of the St. Paul Stories originally appeared in Tales of the Jazz Age, published on September 22, 1922. In his introductory notes, Fitzgerald seems to wish to preempt the critics by providing his own criticism of the stories, the collection written for "those who read as they run and run as they read." This tale is "an experiment…scarcely given a fair trial"; this one surely falls short of its intended "ring of sincerity, or even of tragedy"; this one is only "worth preserving a few years—at least until the ennui of changing fashions suppresses me, my books, and it together." Several stories seem almost disowned, one described as written "with the express purpose of buying a platinum and diamond wrist watch," another as written "utterly for my own amusement," the author "in that familiar mood characterized by a perfect craving for luxury."

If Fitzgerald looked upon some of the early stories as hack writing, done only on whim or for cash, he surely looked upon his last years in Hollywood as far worse. The following is excerpted from a letter Fitzgerald wrote to his daughter ten weeks before his death:
Once one is caught up into the material world not one person in ten thousand finds the time to form literary taste, to examine the validity of philosophic concepts for himself, or to form what, for lack of a better phrase, I might call the wise and tragic sense of life. By this I mean the thing that lies behind all great careers, from Shakespeare's to Abraham Lincoln's, and as far back as there are books to read—the sense that life is essentially a cheat and its conditions are those of defeat, and that the redeeming things are not "happiness and pleasure" but the deeper satisfactions that come out of struggle. I think that the faces of most Americans over thirty are relief maps of petulant, bewildered unhappiness."
---
Daybook is contributed by Steve King, who teaches in the English Department of Memorial University in St. John's, Newfoundland. His literary daybook began as a radio series syndicated nationally in Canada. He can be found online at todayinliterature.com.