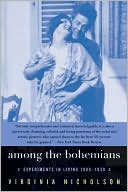 The British author and artist Kathleen Hale, one of the last living members of the Bloomsbury Group, died on this day in 2000, aged 101. Hale was secretary to Augustus John, friends with Vanessa Bell and others, and writer-illustrator for her own dozen Orlando books, these now classics of children's literature. In Among the Bohemians, Virginia Nicolson (Bell's granddaughter) notes that Hale retained the Bloomsbury spirit even in old age: "When Kathleen was seventy-eight she went to Buckingham Palace dressed in second-hand chinoiserie and an astrakhan hat from a charity shop, decked with a Moroccan necklace hung with coins and glass beads, to accept an OBE from the Queen: Bohemia triumphant."

That triumph must have seemed doubtful, given that Hale was so poor during her apprenticeship years that she sometimes sold her hair for food. But working for John and living within his extended "family" — John was an enthusiastic womanizer, his illegitimate children numbering in the dozens — brought its own fun, judging by some of the anecdotes included in Among the Bohemians and the other biographies of the era. The following, taken from Nicolson's book, describes the "primitive, amphibious life" enjoyed at the rambling, sixty-acre manor that the artist rented in Dorset as home for his wife, his mistress, and his shifting entourage of friends and offspring:
Callers such as the vicar were startled to see a horde of children in a state of nature blocking his entrance to the front door…. At intervals the troupe appeared, clothed or otherwise, for meals, then returned to their games in a nearby brickyard or sand quarry. The human occupants of Alderney shared their existence with a farmyard of cows, donkeys, hens, cats and ponies; there were two tame saddleback pigs on which Poppet and Vivien used to ride around the house and garden. The children were greatly occupied in rounding up cattle, making butter, collecting eggs and firewood.… According to Kathleen Hale, this crowd was quite without the need for adult intervention to provide them with amusement. They had no toys, but were utterly absorbed in their own private pursuits.
---
Daybook is contributed by Steve King, who teaches in the English Department of Memorial University in St. John's, Newfoundland. His literary daybook began as a radio series syndicated nationally in Canada. He can be found online at todayinliterature.com.