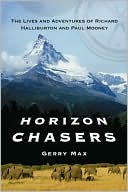 March 23:The American adventurer Richard Halliburton was last heard from on this day in1939, in a radio dispatch sent from his boat during a Pacific Ocean typhoon.After dropping out of college to take his first, unannounced trip, Halliburtonsent his parents a letter declaring his intention to become a perpetual "horizonchaser":
Dad, you hit the wrongtarget when you write that you wish I were at Princeton living "in theeven tenor of my way." I hate that expression and as far as I am able Iintend to avoid that condition…. And when my time comes to die, I'll be ableto die happy, for I will have done and seen and heard and experienced all thejoy, pain, thrills—every emotion that any human ever had—and I'll be especiallyhappy if I am spared a stupid, common death in bed. …[M]y way is to be everchanging, but always swift, acute and leaping from peak to peak instead offollowing the rest of the herd, shackled in conventionalities, along themonotonous narrow path in the valley.
Almost any passage in Halliburton'sbooks echoes his pledge to live peak-to-peak. In the Egypt chapter of The Royal Road to Romance, Halliburton recallsthat his Princeton professor of Ancient Oriental Literature began one lecture, "Theland of Egypt is five thousand years and five thousand miles away." "When,near the end of an eight-day voyage, the white walls of Alexandria began topeep over the horizon," Halliburton gloats, "I realized that Egyptwas only ten miles away and not five thousand." To rub it in, he insistson sneaking up the Great Pyramid in the moonlight, spending a frigid night toget the sunrise view:
Thus for the one millionseven hundred and fifty thousandth time the pyramids watched the break of dawn."Centuries look down upon you," said Napoleon standing at the base.Far more than mere centuries, say civilization, say the history of the world.Three thousand B.C.! It is incomprehensible, and yet they stand and will standfor as many ages yet to come. They are not a perishable work of man; they arean element, a part of the earth to bide its time until we and all ourcivilization and our monuments and languages and manners shall have been lostand forgotten.
---
Daybook is contributed by Steve King, who teaches in the English Department of Memorial University in St. John's, Newfoundland. His literary daybook began as a radio series syndicated nationally in Canada. He can be found online at todayinliterature.com.