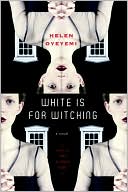 With tomorrow in mind, I was thinking today back over books we reviewed this year that fulfill my seasonal need for a "chilling" read. And one stands out: the appropriately titled White is For Witching by Helen Oyeyemi.
The story is hard to summarize — but briefly, the story contains a haunted house, a cursed family, an obsession with eating dirt, fear of immigrants, and the mythic Afro-Carribbean figure of the soucouyant, a sort of psychic vampire. Call it post-colonial gothic, maybe. In any case, I found it rich, compelling, and pretty scary.
Our reviewer, Amelia Atlas, had this to say about Oyeyemi's prose:
"Oyeyemi writes with a lyricism that begs to be noticed. Her characters, like their author, are image makers. As a narrator, Eliot takes pains to catch the world with the clarity it demands. "I can only explain it in comparison to something mundane," he practically apologizes when trying to describe the presence of his mother's phantom. The novel has an almost aggressive poetry, going to far as to play formal games with where the words fall on the page — a word will appear surrounded by blank space, forming the end of one sentence while beginning the next. It's as if even the text itself were haunted by absence."
And if that isn't to your liking on this Halloween weekend, then I recommend a classic.