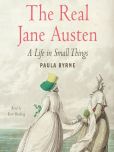 Jane Austen was born on this day in 1775, into a large family whose social position, says one biographer, "hovered at the gentry's lower fringes." This meant that, on one hand, the Austens raised cows and chickens and took in boarders to make ends meet; on the other hand, Jane and her siblings were well schooled and in the habit of staging plays in the barn. At age thirteen Jane was also a playwright — below is "The Mystery," a mini-lampoon of gossip and gossipers:
Daphne: My dear Mrs Humbug how d'ye do? Oh! Fanny t'is all over.
Fanny: Is it indeed!
Mrs Hum: I'm very sorry to hear it.
Fanny: Then t'was to no purpose that I…
Daphne: None upon Earth.
Mrs Hum: And what is to be come of?…
Daphne: Oh! that's all settled. [whispers to Mrs Humbug]
Fanny: And how is it determined?
Daphne: I'll tell you. [whispers to Fanny]
Mrs Hum: And is he to…?
Daphne: I'll tell you all I know of the matter. [whispers to both]
Fanny: Well! now I know everything about it, I'll go and dress away.
Mrs Hum & Daphne: And so will I. [Exeunt]
Paula Byrne devotes a chapter of her new biography, The Real Jane Austen, to the author's lifelong interest in the theater, as playgoer and amateur actor. Byrne cites correspondence showing that, for one Christmas holiday production during her last years, Austen impressed in the role of the gossip merchant Mrs. Candour, from Sheridan's School for Scandal.
---
Daybook is contributed by Steve King, who teaches in the English Department of Memorial University in St. John's, Newfoundland. His literary daybook began as a radio series syndicated nationally in Canada. He can be found online at todayinliterature.com.