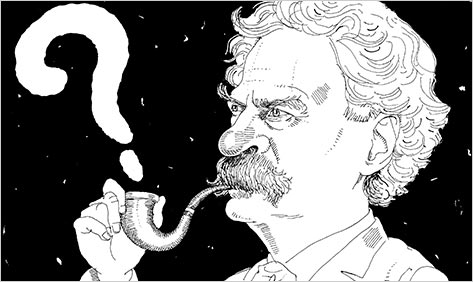 The face of the water, in time, became a wonderful book — a book that was a dead language to the uneducated passenger, but which told its mind to me without reserve, delivering its most cherished secrets as clearly as if it uttered them with a voice. And it was not a book to be read once and thrown aside, for it had a new story to tell every day….
-(Life on the Mississippi)
Our feeling for Mark Twain is as his for the Mississippi River — a book that cannot be thrown aside. And if its life-stories are shifting or not now full of their intended wonder, they are also enduring. In this first installment of the B&N "Milestone" series, we will follow the arc of Twain's life backwards, from his April 21, 1910 death to his November 30, 1835 birth. Seven-and-a-half decades covered on these pages over the next seven-and-a-half months — making the same sort of allowances Twain made when claiming that his birth (twenty days late) and his death (one day late) coincided with the appearance of Haley's Comet.
We start today with Twain's funeral and the reports of his death, exaggerated or otherwise. We will proceed decade-by-decade, by first class steamer and river raft, arriving in Hannibal this November in time to see the lighting of the 175th birthday cake. Along the way we hope to catch a glimpse of the real Twain, whether dressed in immaculate white suit or riverbank mud.
---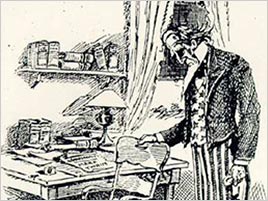 Apart from the inevitable reports that this death was not exaggerated, most of Mark Twain's obituary notices were proudly patriotic. He was "Chief of American Men of Letters," "An American Pioneer in Man's Oldest Art," and to the British, "the American Chaucer." Even the cartoonists mourned the nation's favorite rapscallion with a half-mast flag (see illustrations at left and below).
The Washington Post extended the nation's pride to its furthest reach, suggesting that Twain spoke as Everyman, if not to every man's Inner Yankee:
Wherever civilization was, or touched, his pen name, at least, was known. Mr. George Kennan [the American explorer-journalist] found in an obscure Siberian village but two things to remind him of home, one a sackful of peanuts and the other a dilapidated copy of Innocents Abroad. …It has been said of Emerson that he lifted the idols of men from their pedestals and placed them reverently on the ground. Mark simply poked the false gods in the ribs, and they came down of their own accord.
The New York Times description of Twain's funeral tried to put a human face on the theme of universality. Inside, the 400 ticket-only mourners ranged from Andrew Carnegie to O. Henry; outside, among the thousands lined up to pass by the coffin, was "every nationality" and "all religions" and perhaps even Huck himself:
…the man looked the very picture of tramphood, but his bearing was easy, and he seemed to be unconscious of his tattered clothes, stopping for a long look at the face of Mark Twain. Mr. Paine [Twain's official biographer] also saw him, and said he was probably some one who had seen better days, in which he had read Mark Twain and conceived a liking for his work.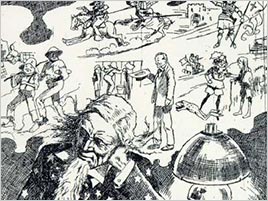 Before all could pass by, the church doors were shut and Twain's coffin was shipped by train to Elmira, New York for burial. But a centennial funeral reenactment will take place in Elmira on April 24th, should you wish to pay your respects. Twain would surely enjoy the idea of a Second Going, and would surely recommend his advice from "At the Funeral":
Listen, with as intense an expression of attention as you can command, to the official statement of the character and history of the person in whose honor the entertainment is given; and if these statistics should seem to fail to tally with the facts, in places, do not nudge your neighbor, or press your foot upon his toes, or manifest, by any other sign, your awareness that taffy is being distributed. If the official hopes expressed concerning the person in whose honor the entertainment is given are known by you to be oversized, let it pass….
Following Twain's funeral, William Dean Howells would write and speak about the friend he knew and wished to preserve — not the white-suited spokesman for "the Gospel of St. Mark," or the "Yorick of the West," but a man who was "something of a puzzle," full of "congeries of contradictions" and "tragical seriousness." We pursue the puzzle in next week's installment: Twain's Last Years: Grief, Girls & Oxford Gowns.
–STEVE KING
Steve King contributes Daybook to the Barnes & Noble Review and teaches in the English Department of Memorial University in St. John's, Newfoundland. His literary daybook began as a radio series syndicated nationally in Canada. He can be found online at todayinliterature.com.