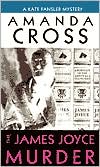 Carolyn Heilbrun was born on this day in 1926. As a professor of English at Columbia, Heilbrun wrote a number of influential feminist studies; as "Amanda Cross," she wrote the Kate Fansler mysteries, her heroine a feminist-minded English professor, her stories packed with quotations from the literary canon and plots aimed at the well-rounded reader.

James Joyce died on this day in 1941. Heilbrun's The James Joyce Murder has chapter headings from Joyce's Dubliners, and the crime turns upon a collection of manuscripts. Fansler is thick-skinned rather than hard-boiled, this a necessity given the number of blowhard or ladder-climbing academics she encounters. Not all of them are male, but it's the men, often those seated at the head of the committee table, who find opportunities to say things like sic biscuitus disintegrat (that's how the cookie crumbles). Such colleagues drive the bored professor-sleuth far down-table, into her own thoughts and options:
Odd, Kate thought, the years it took to learn one simple fact: that the prize just ahead, the next job, publication, love affair, marriage always seemed to hold the key to satisfaction but, in the longer run, sufficed. However one tried to savor one's gifts — leisure, health, money, a room of one's own — one always ended peering ahead, to the next chance.… And now, such was life today, even if one survived the worst, one reached a condition sharply modern, at least described with a modern phrase: survivor guilt. And so one asked: What next, what new purpose to life, what new community or service?
Such passages might begin to explain Heilbrun's "rational suicide" in 2003, her note saying "the journey is over," her friends and fans debating her longing for "a death of one's own."
---
Daybook is contributed by Steve King, who teaches in the English Department of Memorial University in St. John's, Newfoundland. His literary daybook began as a radio series syndicated nationally in Canada. He can be found online at todayinliterature.com.