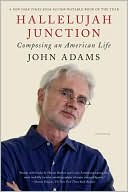 The composer John Adams, who proved himself a deft writer in his autobiography, Hallelujah Junction, published last year and out in paperback in a couple of weeks, has found a new home for his prose in the Hellmouth blog at his site, earbox.com. Mozart, Frank Zappa, and Proust turn up, and Theodore Adorno meets Sean Hannity. And we learn that Adams is delivering this year's Tanner Lectures on Human Values at Yale.
See John Adams's blog here.
Read our interview with Adams on Hallelujah Junction here.