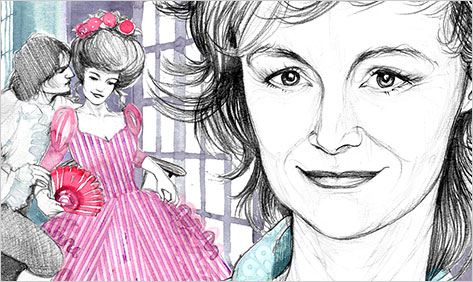 What's the appeal of girls who need to be rescued? Given the popularity of psychotic killers and inhuman monsters in romances, you'd think we were all seeking tips to ward off the Prince of Darkness living next door in 5B. Of course, some heroines do take out the opposition without any help. But there's a healthy strand of romance in which the hero earns his stripes by fighting off everything from demons, to drunken rapists, to furry, fangy murderers. In these books, the heroine (metaphorically) hides behind a tree while the hero dispatches the threat. Do we miss the days when our petticoats and bustles meant we couldn't possibly be considered responsible for felling a seven-foot intruder?

Let's start at the top of the food chain with a hero who may be an angel, and a villain with a cloven hoof. Delacroix's Guardian is a wildly creative, fascinating novel about a heroine named Delilah and a hero named Rafael. If those names ring any bells for you, go with the feeling: Delacroix's futuristic world invokes a biblical game between a man named Rafe with scars on his back where wings might have been, and Delilah, a branded slave whose psychic powers put her in grave danger. I like Delilah, but she's both impetuous and outrageously stubborn. Luckily, from the moment she becomes a target of the secret police, Rafe keeps saving her, time and again. She fights him; she betrays him; she falls in love with him. What salvages Delilah from her own mistakes is that the stakes are so large: the well-being of the world itself is at stake. The romance, then, stands at the heart of a larger battle, and the hero saves not just Delilah, but humanity itself. The final confrontation between Delilah and her captors will have you sitting up late to find out what happens when it's time for an angel to go home.

Angels are in favor this month; J. R. Ward segues from her popular vampire series with Covet, the first in a new series called The Fallen Angels. Ward's novel begins when Jim Heron, a man whose soul is precisely balanced between evil and its opposite, is chosen as the master player in a game whose outcome will determine the end of the world. The chess pieces? Seven souls. Vin Di Pietro, an elegantly tough millionaire, is the first soul on the chopping block. And the heroine? Marie-Terese — a single mother with a terrible work-life and a desperate need to be saved. But can Vin save her, even with angelic assistance? The threats against her start multiplying like dust bunnies: there's a devil after Vin who targets Marie-Terese, not to mention a thoroughly human bad guy. Like Delacroix, Ward makes the stakes bigger than the relationship at the heart of the novel. But you'll find yourself rooting for Marie-Terese and Vin, and leaving larger questions to fate.

Leanna Renee Hieber's debut novel, with The Strangely Beautiful Tale of Miss Percy Parker has something of an angelic overlay, without the label. In Hieber's creepily gothic Victorian London, only a group of six mortals shields the city from the restless dead and the even more restless devilish types. The guardians are led by Professor Alexi Rychman, of the Athens Academy. All is well until Miss Percy Parker is bounced from her convent to the academy because her talents are too strange for the nuns — her ability to see the dead, for example, just isn't proper. Percy promptly falls in love with Professor Alexi Rychman. Meanwhile, Alexi is actively seeking a seventh guardian, but Percy, an odd-looking, timid student, doesn't strike Alexi as a powerful ally. Angels don't belong in Hieber's eerie world, but when Alexi springs a pair of enormous wings of blue light at just the right moment, the analogy is clear. As in the previous novels, the success of the hero and heroine's love is crucially tied to, in his words, "the balance of our world."

None of these heroines are hapless victims, but given the otherworldly forces ranged up against them, they can't save themselves either. They need an angel. I'd suggest that the magnitude of the threat allows the heroine (and her readers) to relax into a pleasure that may not be p.c., but sure is delicious: the hope that if a marauder ever attacks in a dark alley, a big, beloved male will fight him off.

Of course, not every Save Me romance invokes the end of the world. Christine Warren's Big Bad Wolf is a hilarious, super-sexy story about a kindergarten teacher who's suddenly noticed by the BBW himself, Graham Winters, leader of the Silverback werewolf clan. Missy Roper is a plain, slightly plump teacher who simply can't — and doesn't — believe it when Graham fixates on her as his destined mate. Her disbelief speaks to every moment spent on the side of a dance floor, watching the hottest cheerleader in the room circle the top werewolf (metaphorically speaking). But the heart of the novel takes place during an arcane ritual held in Central Park, where Graham has to fight off a bunch of furry rapists to claim his place as Missy's mate. It's utterly ridiculous — and incredibly fun. If the three books above present the battle-for-mate as a deathly serious fight against uber evil, Big Bad Wolf adds a touch of Scooby Do. But make no mistake: this is one of the sexiest books I've read in ages, and it delivers the same potent kick as the others when Graham saves Missy from a werewolf she couldn't possibly defeat on her own.

I'll end with a novel that doesn't weave supernatural strands into the Save Me paradigm. Jodi Thomas's The Lone Texan is a fascinating romance set in Texas in 1859. Sage McMurray is a widowed lady doctor who returns to Texas after years in Boston to find that the "wild" is still part of the wild west. One of the first people she encounters is an old friend, Drummond Roak, a gunfighter who has always loved Sage. Like Delilah, Sage has a definite propensity for putting herself in the way of danger. The moment she lands in Texas she finds herself in front of a team of galloping horses — only to be saved by Roak. Traffic accidents aside, Sage ends up kidnapped by a renegade group of rapists and murderers, and Roak nearly dies several times, saving her.

The pitch of a romance changes when the reader desperately needs the hero to make it to the heroine's side and save her life. Instead of focusing on whether he will fall in love (aka, the Big Bad Rake Syndrome), these romances foreground a hero who never questions his own feelings. Rafe, Van, and the rest are instantly drawn to their heroines; Roak has loved Sage all his life. The most potent example of this is Graham, whose werewolf genes insure that once he meets his "mate," he cannot look elsewhere. With the question of whether the hero loves the heroine out of the way, tension mounts around the question of whether he will keep her alive long enough to win her love. Whether the stakes are the entire world, or just one lady doctor, the Save Me paradigm has just as much oomph as it did when Scarlet first appealed to Rhett.

If you'd like to discuss romances with heroines-in-danger, please stop in to chat with Eloisa James in the Romantic Reads Book Club, where she'll be joined by Claire Delacroix and Jodi Thomas. Please do check out Eloisa's past columns in the Archives, and if you'd like to get her reaction to romances as she reads them, follow her on Twitter. If you'd like a peek at Eloisa's own romances, please visit her web site at eloisajames.com.

And don't forget Barnes & Noble's new daily romance blog Heart to Heart, where the fabulous Michelle Buonfiglio chats about the hottest news in the world of romance, from favorite authors to scorching love scenes.