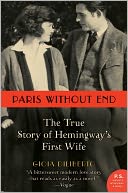 Ernest Hemingway completed his first draft of The Sun Also Rises on this day in 1925. The novel's famous last line was not in place at this point — in manuscript, Brett's lament that she and Jake "could have had such a damned good time together" is followed first by "It's nice as hell to think so," this changed to "Isn't it nice to think so?" and eventually to "Isn't it pretty to think so?" But Hemingway seemed to think he had something even in first draft, writing on his last page, "The End. Paris, Sept. 21, 1925."

These words proved prophetic in unintended ways. Hemingway's novel was published thirteen months later, becoming his first major success and, some commentators now say, his best work. The thirteen months were trying ones for Hemingway personally: sometime during this period his first wife, Hadley, discovered his affair with his eventual second wife, Pauline Pfeiffer. The Sun Also Rises is dedicated to Hadley, but she and Hemingway were separated by the time it was published; their six years of marriage and struggle now over, the novel's royalty payments became Hadley's divorce settlement.

Fifteen years later, on this day in 1942, Hadley wrote Hemingway to ask if he wanted a stack of letters from the old Paris days that she had just found in her basement. At this point, Hemingway was beginning a new marriage — in five weeks he would divorce Pfeiffer, in eight weeks he would marry Martha Gellhorn. In his reply to Hadley, Hemingway asks for the letters and perhaps tries to turn back the clock:
Imagine if we had been born at a time when we could never have had Paris when we were young. Do you remember the races out at Enghien and the first time we went to Pamplona by ourselves and that wonderful boat the Leopoldina and Cortina D'Ampezzo and the Black Forest? Last night I couldn't sleep and so I just remembered all the things we'd ever done and all [our] songs — "A feather kitty's talent lies / In scratching out the other's eyes / A feather kitty never dies / Oh immortality." We have three good cats here…. When I can't sleep at night I tell them stories about F. Puss [Feather Puss, their Paris cat]…. Good bye Miss Katherine Kat. I love you very much. It is all right to do so because it hasn't anything to do with you and that great Paul; it's just untransferable feeling for early and best Gods. But will never mention it if bad. Thought you might just be interested to know.
---
Daybook is contributed by Steve King, who teaches in the English Department of Memorial University in St. John's, Newfoundland. His literary daybook began as a radio series syndicated nationally in Canada. He can be found online at todayinliterature.com.