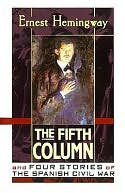 May 18: After two months in Spain as a journalist covering the Civil War, Ernest Hemingway returned to the United States on this day in 1937, determined to rally support for the Republican cause. Though purported to be factual and neutral, Hemingway's dispatches from Spain had been a mixture of fiction and news slanted in favor of the Republicans. He soon gave up any pretense of neutrality, becoming involved in a range of activities—fundraising, narrating the documentary film, The Spanish Earth, writing The Fifth Column and, in early June, delivering "Fascism is a Lie," his only official speech, at a meeting of the American Writer's Congress:
I said you become accustomed to war. If you are interested in the science of it—and it is a great science—and in the problem of human conduct under danger, you can become so encompassed in it, that it seems a nasty sort of egotism even to consider one's own fate. But no one becomes accustomed to murder. And murder on a large scale we saw every day for nineteen days during the last bombardments of Madrid.
Another writer-war journalist, the twenty-six-year-old Stephen Crane, is tied to this day. Crane arrived in Greece in April of 1897 to cover the Greco-Turkish war and to finally experience the thrill of battle. For all the verisimilitude of The Red Badge of Courage, published two years earlier, Crane had never seen military action, and although on the side of the Greeks, their defeat at Velestino in early May left him exhilarated:
The roll of musketry was tremendous. From a distance it was like tearing a cloth; nearer, it sounded like rain on a tin roof and close up it was just a long crash after crash. It was a beautiful sound—beautiful as I had never dreamed. It was more impressive than the roar of Niagara and finer than thunder or avalanche—because it had the wonder of human tragedy in it. It was the most beautiful sound of my experience, barring no symphony.
Soon the Greeks were in full retreat,and on May 18th Crane joined 800 "bullet-torn" soldiers bound for Athens, after which he filed another dispatch for the New York Tribune which he or his editors titled "The Blue Badge of Cowardice," an allusion to the blue-uniformed Greeks and Crane's Red Badge fame.
Both Crane and Hemingway are represented in The Book of War (1999), John Keegan's anthology of "25 Centuries of Great War Writing."
---
Daybook is contributed by Steve King, who teaches in the English Department of Memorial University in St. John's, Newfoundland. His literary daybook began as a radio series syndicated nationally in Canada. He can be found online at todayinliterature.com.