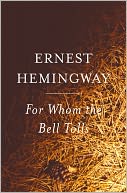 Ernest Hemingway's For Whom the Bell Tolls was published on this day in 1940. It had been over a decade since A Farewell to Arms, and though there had been a handful of books since, the critics had not thought much of them. The new book was praised by many — "Hemingway the artist is with us again, and it is like having an old friend back," said Edmund Wilson — and sold a half million copies in the first six months.

There were dissenting voices, some of them raised at Hemingway's politics, some of them at his lovemaking prose. This is the famous moment in chapter 13 when everything goes "red, orange, gold-red" for Maria and, coining a phrase, Hemingway makes the earth move for Robert Jordan:
For him it was a dark passage which led to nowhere, then to nowhere, then again to nowhere, once again to nowhere, always and forever to nowhere, heavy on the elbows in the earth to nowhere, dark, never any end to nowhere, hung on all time always to unknowing nowhere, this time and again for always to nowhere, now not to be borne once again always and to nowhere, now beyond all bearing up, up, up and into nowhere, suddenly scaldingly, holdingly all nowhere gone and time absolutely still and they were both there, time having stopped and he felt the earth move out and away from under them.
Hemingway said that the writing of For Whom the Bell Tolls cost him his second marriage, to Pauline Pfeiffer. The biographies and memoirs concur, though perhaps it was the research rather than the writing that led to the breakup. In Paul Preston's We Saw Spain Die: Foreign Correspondents in the Spanish Civil War (2010), British journalist Sefton Delmer's describes this fallout from an early-morning bombing of Madrid's legendary Hotel Florida: "All kinds of liaisons were revealed as people poured from their bedrooms to seek shelter in the basement, among them Ernest [Hemingway] and Martha [Gellhorn]." The two war correspondents first met in the Florida's bar; the meeting and the hotel are recreated in the upcoming HBO film Hemingway & Gellhorn, starring Clive Owen and Nicole Kidman and scheduled to air next spring.
---
Daybook is contributed by Steve King, who teaches in the English Department of Memorial University in St. John's, Newfoundland. His literary daybook began as a radio series syndicated nationally in Canada. He can be found online at todayinliterature.com.