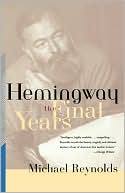 March 4: Ernest Hemingway finished writing The Old Man and the Sea on this day in 1952. That day he wrote his publisher describing his book as "the best I can write ever for all my life." A follow-up letter three days later said that the story represented "an epilogue to all my writing and what I have learned, or tried to learn, while writing and trying to live." Given his confidence in the book, and his sensitivity to the view that he was washed up — the reviews of his previous novel, Across the River and into the Trees, had ranged from poor to scornful — Hemingway went on in his letter to add, "It will destroy the school of criticism that claims I can write about nothing except myself and my own experiences."
Looking back a decade after Hemingway's suicide, Mary Welsh Hemingway says that she saw the first indications of a "general disintegration of Ernest's personality" as he was beginning The Old Man and the Sea. Prominent among the warning signs, she felt, was the Russian teenager Adriana Ivancich, who had been the model for Renata in Across the River and into the Trees and with whom he was having an affair:
When he was working one morning, I broke the rule that he must never be interrupted, no matter what. "Will you please come to my room? I have some things to say to you."

Dolefully, he padded across the living room to stand beside my desk.

"I will be brief, but you listen carefully. I think I understand about your feeling for this girl. Your insults and insolence hurt me, as you surely know. In spite of them I love you, and I love this place, and I love our life here. So try as you may to goad me into leaving it and you, you are not going to succeed. Are you hearing me?"

Ernest nodded. He was hearing me.

"No matter what you say or do, I'm going to stay here and run your house — until the day that you come to me, sober, in the morning, and tell me truthfully and straight that you want me to leave. I hope you've heard me. "

Ernest stood there a moment, his face thoughtful.

"Yes, I heard you, " he said, and went back to his bedroom to work.
When he came out, he had with him The Old Man and the Sea — eight weeks of work at 1000 words a day, twice his usual pace. Whatever roles his marriage and his affair played — in her 1980 memoir (this three years before her own suicide), Ivancich says, "I am proud to remember that I led him to write The Old Man and the Sea" — the 1954 Nobel committee agreed that it was Hemingway's "true masterpiece."
---
Daybook is contributed by Steve King, who teaches in the English Department of Memorial University in St. John's, Newfoundland. His literary daybook began as a radio series syndicated nationally in Canada. He can be found online at todayinliterature.com.