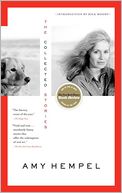 Amy Hempel was born on this day in 1951. Although Hempel does not enjoy interviews — "I'm not good at small talk; I'm not good at big talk; and medium talk just doesn't come up" — she sometimes gives in. The following excerpt is from her interview for the Summer 2003 issue of The Paris Review ("The Art of Fiction No. 176"); the interviewer has asked Hempel if she recalled her first writing class with the influential teacher and editor Gordon Lish:
Vividly. The assignment was to write our worst secret, the thing we would never live down, the thing that, as Gordon put it, "dismantles your own sense of yourself." And everybody knew instantly what that thing, for them, was. We found out immediately that the stakes were very high, that we were expected to say something no one else had said, and to divulge much harder truths than we had ever told or ever thought to tell. No half-measures. He thought any of us could do it if we wanted it badly enough. And that, when I was starting out, was a great thing to hear from someone who would know.
Hempel says that she wrote about how "I failed my best friend when she was dying," which became her first story, "In the Cemetery Where Al Jolson Is Buried." She also says, in interviews and in books like Unleashed, a 1999 collection of "Poems by Writers' Dogs" she co-edited, that her best friends are often four-legged. Below, the opening to the title story of Hempel's 2005 collection, The Dog of the Marriage:
On the last night of the marriage, my husband and I went to the ballet. We sat behind a blind man; his guide dog, in harness, lay beside him in the aisle of the theater. I could not keep my attention on the performance; instead, I watched the guide dog watch the performance. Throughout the evening, the dog's head moved, following the dancers across the stage. Every so often the dog would whimper slightly. "Because he can hear high notes we can't?" my husband said. "No," I said, "because he was disappointed in the choreography."
---
Daybook is contributed by Steve King, who teaches in the English Department of Memorial University in St. John's, Newfoundland. His literary daybook began as a radio series syndicated nationally in Canada. He can be found online at todayinliterature.com.