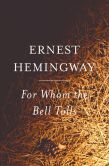 So if your life trades its seventy years for seventy hours I have that value now and I am lucky enough to know it. And if there is not any such thing as a long time, nor the rest of your lives, nor from now on, but there is only now, why then now is the thing to praise and I am very happy with it.
Ernest Hemingway's For Whom the Bell Tolls was published on this day in 1940. The passage above is from day one of Robert Jordan's doomed, three-day mission in the Spanish Civil War. Jordan has just shared a sleeping bag with Maria; a few moments later, swept further along on "the underground river of Hemingway fatalism" (Paul Hendrickson in his recent, award-winning Hemingway's Boat), his mood is less buoyant:
Not time, not happiness, not fun, not children, not a house, not a bathroom, not a clean pair of pajamas, not the morning paper, not to wake up together, not to wake and know she's there and that you're not alone. No. None of that. But why, when this is all you are going to get in life of what you want; when you have found it; why not just one night in a bed with sheets?
---
Daybook is contributed by Steve King, who teaches in the English Department of Memorial University in St. John's, Newfoundland. His literary daybook began as a radio series syndicated nationally in Canada. He can be found online at todayinliterature.com.