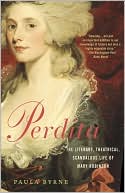 Mary Darby Robinson died on this day in 1800. After a half century of disinterest from biographers and two centuries of neglect from literary scholars, there has been an explosion of interest in Robinson lately, from all angles. Rightly so: even setting aside the eight novels and twelve collections of poetry (written before she died in her early forties), it is hard to imagine a life so connected, various, and cram-full.

She acted with Garrick and Sheridan; she was mistress to the teenage Prince of Wales, and then several of his friends; she sat for Gainsborough and Reynolds; her friends included Marie-Antoinette, Mary Wollstonecraft, and the young Coleridge; and her longest relationship was with a British hero of the American War of Independence. All this was sandwiched between a rough start and a rough finish: a marriage at fifteen to a no-good with whom she went to debtor's prison for fifteen months and a period of decline during her final years when she was deserted by the war hero and too crippled by rheumatoid arthritis to walk.

Her novels often feature women who are compromised, disadvantaged, and discriminated against, and her themes often echo her nicely titled Letter to the Women of England on the Injustice of Mental Subordination, with Anecdotes. But she was more than pamphleteer; these are the opening stanzas of the poem "January 1795," a portrait of the London streets from one who knew both sides of them:

Pavement slippery, people sneezing,
Lords in ermine, beggars freezing;
Titled gluttons dainties carving,
Genius in a garret starving.

Lofty mansions, warm and spacious;
Courtiers cringing and voracious;
Misers scarce and wretched heeding;
Gallant soldiers fighting, bleeding.

Wives who laugh at passive spouses;
Theatres, and meeting-houses;
Balls, where simpering misses languish;
Hospitals, and groans of anguish.

Arts and sciences bewailing:
Commerce drooping, credit failing:
Placemen mocking subjects loyal;
Separations, weddings royal….
---
Daybook is contributed by Steve King, who teaches in the English Department of Memorial University in St. John's, Newfoundland. His literary daybook began as a radio series syndicated nationally in Canada. He can be found online at todayinliterature.com.