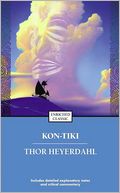 Thor Heyerdahl's Kon-Tiki raft ran aground at Raroia, an atoll in French Polynesia, on this day in 1947. Heyerdahl's 101-day, 5,000-mile journey across the Pacific Ocean captured the imagination of a generation, and his book describing the adventure was a bestseller in most of the sixty-seven languages into which it was translated. Given the unique challenges he took on, Heyerdahl's whimsical opening of The Kon-Tiki Expedition is a classic of understatement:
Once in a while you find yourself in an odd situation. You get into it by degrees and in the most natural way but, when you are right in the midst of it, you are suddenly astonished and ask yourself how in the world it all came about. If, for example, you put to sea on a wooden raft with a parrot and five companions, it is inevitable that sooner or later you will wake up one morning out at sea, perhaps a little better rested than ordinarily, and begin to think about it. On one such morning I sat writing in a dew-drenched logbook:

May 17. Norwegian Independence Day. Heavy sea. Fair wind. I am cook today and found seven flying fish on deck, one squid on the cabin roof, and one unknown fish in Torstein's sleeping bag….
The theory that Heyerdahl believed he had helped to validate — that a vast area of Polynesia was settled east to west — has not fared as well as his book. Anthropologists and archeologists specializing in Polynesia say that "the Kon-Tiki theory is about as plausible as the tales of Atlantis" (Robert Carl Suggs) and that Heyerdahl willfully ignored "the overwhelming body of linguistic, ethnographic, and ethnobotanical evidence, augmented today by genetic and archaeological data, indicating that he was patently wrong" (National Geographic Explorer-in-Residence Wade Davis). In A Hero for the Atomic Age: Thor Heyerdahl and the Kon-Tiki Expedition (2010), Axel Andersson goes further, accusing Heyerdahl of being a white supremacist and a child of his time:
The Kon-Tiki story is not as simple and innocent as the legend it has become, but its most problematic aspects are not in any hidden unpleasant details that have been buried in some filing cabinet or in some family secret. When it comes to Heyerdahl's Kon-Tiki there is an elephant in the room in the form of a highly articulated racist theory that has for a long time remained almost perfectly invisible.
---
Daybook is contributed by Steve King, who teaches in the English Department of Memorial University in St. John's, Newfoundland. His literary daybook began as a radio series syndicated nationally in Canada. He can be found online at todayinliterature.com.