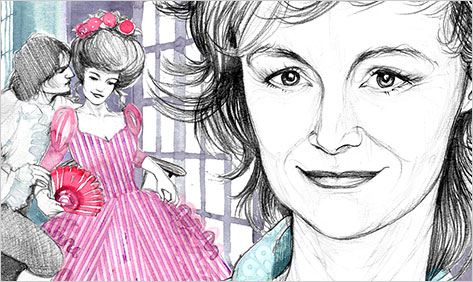 On hot summer nights in rural Minnesota the sound of racecars tearing around a track can be heard for miles. I grew up listening through half-open windows to the exotic scream of those Saturday night races; they sang of speed, sexy men, and other dangers good girls like myself didn't encounter. I never considered climbing out the window. I knew perfectly well that those unruly men were whistling at blonde bombshells, not shy bookworms.

It turns out there's a whole subset of romances directed squarely at the love of bad boys and black flags: novels featuring NASCAR drivers and girls who definitely aren't bombshells. These novels spin their stories from the lure of a foreign world, one ruled by velocity, stardom, and money. They generally do a bit of explaining about race rules and safety mechanisms, but the basic appeal springs from the glamour of a powerful and beautiful man — and a woman who presents a contrast to his big-breasted fans.

Pamela Britton's On the Move pits Brandon Burke, a brawling, troublesome driver in need of a PR clean-up, against his babysitter, junior sports agent Victoria Prudence Bradford. He's "Gladiator-ish," as Vicki has it, with a face and body like a Calvin Klein model. She's average-looking and (again, in her description) has "hair as light brown and wispy straight as an Afghan hound's." Britton has a gift for funny descriptions that makes Vicki's determined attempts to keep Brandon on the straight-and-narrow a delight to read. He hates authority; she's determined to clean up his image, even if she has to use blackmail, theft, and sex to get there. Basically, good girl climbs out the window, goes to the track and meets?trouble. My mother would be unsurprised; the shadow of my teenage self is utterly delighted.

Kimberly Ray's Slippery when Wet tweaks that situation by pitting driver against driver. Rory Canyon is tall, muscled, and gifted with a sinful mouth, a testosterone-laden driver who wears a sleeveless black T-shirt emblazoned with XTREME along with his biker boots. But Raye's heroine is just as tough as her hero. Jayce is a tomboy, complete with her own scuffed black biker boots and the ability to chug a can of Bubba Beer faster than most other drivers. That's all very well until Jayce's sponsor orders her to go feminine — or risk losing her contract. A few chapters later Rory sees a blonde bombshell hanging around the garage — "tall and leggy in pink high heels and faded jeans?a hot body. And long, silky hair. And sparkling eyes." It's hilarious watching smartass Jayce learn to channel her inner goddess; even more fun to see Rory succumb to the one girl he's determined to avoid. Yet even after her makeover, Jayce has a complicated relationship to her own femininity that puts her in a whole different category from the voracious, if gorgeous, teenagers clamoring for Rory's phone number.

In Slippery when Wet, Rory has a heart-stopping moment as he watches Jayce's racecar slam into a wall. That same fear drives Francis Ray's Nobody but You. Cameron McBride is "six feet two of lean, conditioned muscles and elegance." Caitlin is the woman who left him at the altar years ago, because she simply couldn't bear the idea that she might lose him in a fiery crash. And Joshua? The little boy she never told him about. When they accidentally meet in the hospital after Cameron's car spins out, the novel grows from the central fact that even if a good girl tames a bad boy, she can still lose her nerve. Caitlin has to overcome her fear enough to realize that NASCAR racing is a good deal safer than it was in the days when her father died on the track. As important, she needs to realize that Cameron is hers. That's one uniform point in these books: the man who was likely voted "least likely to settle down" in his high school yearbook falls hard when he falls. His days may be spent racing around the track, but he means it when he promises to return home in the evening.

Jean Brashear's Black Flag, White Lies follows a similar plotline as regards offspring — but for very different reasons. Ten years ago Zoe Lane Hitchens fell passionately in love with Will Branch (a smoldering NASCAR bad boy), got pregnant, and ended up marrying Will's best friend when she thought Will rejected the baby. It isn't until she's a widow that she realizes Will never knew anything about their son, Sam. The same issues that glamorize the bad-boy lifestyle, such as speedy cars and weeks on the road, stand between Zoe and Will's chance to unify as a family. But the really crucial question faced by Zoe and Caitlin is whether bad boys can grow up — whether they can sacrifice the glitz, glamour, and beautiful race bunnies to become family men.

But the onus is not all on the heroes. Just as important is the question of whether the heroines can grow up. Zoe and Caitlin are both so immobilized by fear that they aren't able to accept love. Only after realizing that time is fleeting for everyone — not just NASCAR drivers — are they able to seize happiness.

Erin McCarthy's Flat-Out Sexy pits a woman who knows exactly how dangerous the sport can be against a daredevil newbie driver. Tamara Briggs is a single mom and teacher, widowed when her husband crashed at the track two years ago. She's trying to tame her lust for bad boys by dating a professor who is "dumpy and careless and thin." As her best friend says, unless Geoffrey has an anaconda in his pants, he's just not worth the trouble (and poor Geoff doesn't). Unfortunately for the dweeby academic, Elec Monroe wanders into Tamara's life. Initially she thinks he is a member of the pit crew, though he's actually a racecar driver plagued by busty beach blondes. She panics when, after a white-hot night together, she finds out he's a driver — and not only that, a rookie who's seven years younger than she is. She's 31 with stretch marks and a tummy! But Elec keeps seducing her into bed — until his car crashes into a wall, and Tamara surrenders to the terror that goes along with loving a driver. It takes a great deal of courage for her to finally accept that living with fear is better than living without Elec.

McCarthy's Hard and Fast, coming out in May, offers an equally sexy culture clash, this time between an academic and a driver. The heroine, Imogen, is writing a dissertation on the culture of stock car racing that specifically examines whether a book called Marrying a Race Car Driver in Six Easy Steps offers legitimate advice. Naturally she ends up breaking all the rules when it comes to one driver, Ty McCordle. The question posed by that self-help book is firmly answered by each of these novels: race car drivers don't fall in love with pneumatic boobs or tinsel-colored hair. The book's dictates about when to wear high heels (not at the track) and when to come on strong (not on the first date) are irrelevant. Drivers fall in love with complicated, occasionally insecure women who turn out to be far more enchanting than the race bunnies who haunt the track.

These novels pit good girls against reckless, sexy drivers — and the good girls win every time. It's an ancient formula, and still an utterly delightful one.

If you'd like to discuss wild boys (in books or your past), please stop in to chat with Eloisa in the Romantic Reads Book Club, where she'll be joined by Erin McCarthy and Pamela Britton. You can check out Eloisa's past columns in the Archives. And if you'd like a peek at Eloisa's own romances, please visit her web site at www.eloisajames.com.