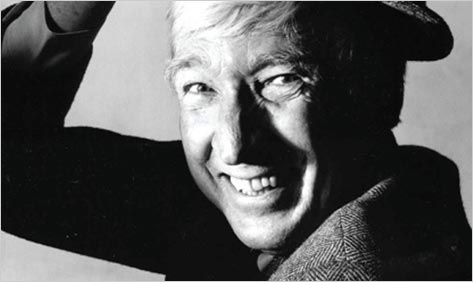 No American writer educated himself quite so publicly as John Updike. Prompted by a "dim sense that the humanities and arts need repeated injections of amateurism," Updike swabbed our arms and gave us the shot monthly. Over four decades he reviewed hundreds of books for The New Yorker and dozens upon dozens of art shows for the New York Review, and he would riff on just about anything for anyone: physics, aging, golf, pennies, photographs, humor, new Chinese writing, how to make a football. He was available, and he was game. Even the AARP newsletter and Massachusetts Golfing Association can call him a contributor.

Every eight or so years Updike compiled these literary errands into a book. They were fat volumes and grew fatter with time, his genial, apologetic prefaces conveying a wide array of excuses for their over-muchness: his Depression Era-born attitude about money, an alimony payment that was "his to make," curiosity. Updike is not here to aw-shucks over this latest, posthumously published collection, Higher Gossip, assembled by Christopher Carduff, but if he were, one imagines he might talk a little bit about aging.

This is not an elderly man's book, but it is close. The collection begins with a note about touring bookstores in his seventies, and it ends with a brief essay on the sustaining fires of his conflicted Christianity. In between, Updike does what grandparents do. He dives into an increasing number of biographies, eulogizes close friends, and complains about the size of crowds at gallery shows. His generosity and forbearance — which gave his reviews their silken coziness — occasionally falter and a temper flares.

"Toni Morrison has a habit, perhaps traceable to the pernicious influence of William Faulkner, of plunging into the narrative before the reader has a clue to what is going on," Updike writes in a testy review of the Nobel laureate's A Mercy. "In the age of retirement," he writes, in a hilarious piece about wintering in Arizona, "we say what we think and ask what we wish."

It's a pleasure to encounter this slightly less genteel Updike on the page. Criticism, after all, is often about a collision between sense and sensibility. Updike's weakness as a critic was that he could be too dutiful, and rather than convey frustration, he would bury the reader in the cotton wool of regurgitated research. Higher Gossip, which collects some 170 pages of art reviews, features some striking examples of how excruciatingly boring it could be to follow Updike around a museum when he couldn't commit to really disliking something.

Updike's greatest skill — his genius — was in praising, in looking with a kind of devotional attention to the everyday world, and while Higher Gossip is marred by some too-kind reviewing, it also happily includes many examples of this brighter side of Updike's register. There are some familiar affinities — golf and baseball, early American drawing and Edith Wharton — but some surprising ones, too. "Of Carver's stories," he writes in a stirring eulogy of the American short story writer, "it must be said they are beautiful. Not since Hemingway, perhaps, has anyone built so lovingly in stacks of plain sentences." With photographs by Joel Meyerowitz and Robert Polidori of Ground Zero and New Orleans, respectively, the historic "record is indeed enhanced, for posterity to consult, and to use in ways we cannot imagine."

This is a large book, and Updike's prose makes music most of the time. In a piece on surrealism he remarks that "the overturning of conventionality becomes as boring as conventionality." The preface to a reissued version of his first novel, The Poorhouse Fair, contains this gem: "The novel of the future seeks to give us in concentrated form the taste of time that flavors all novels, that makes their events more portentous than events of our own lives, where time passes unnoticed, but for the rare shudder, and the mechanical schedule."

It was easy to assume that Updike's voice — so ubiquitous, for so long — would bend the laws of time and continue appearing in The New Yorker forever. Higher Gossip reminds those of us who felt this way how foolish we were. Yes, this book could do without the essays on golf, and does it really need to reprint prefaces, the unfunny satirical dialogues? Still, if their inclusion here is the tariff we must pay for another encounter with Updike's fierce, devotional mind — to read his brilliant description of a football being made at a factory in Ohio — it is small change indeed.