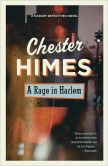 The novelist Chester Himes was born on this day in 1909. Himes titled his autobiography My Life of Absurdity to convey the dark comedy of mischance, mistake, and racism that combined to shape him. At the age of thirteen Himes played a role in the accidental blinding of his teenage brother, an event that triggered lifelong guilt and anger:
We pulled into the emergency entrance of a white people's hospital. White clad doctors and attendants appeared. I remember sitting in the back seat with Joe watching the pantomime being enacted in the car's bright lights. A white man was refusing; my father was pleading. Dejectedly my father turned away; he was crying like a baby. My mother was fumbling in her handbag for a handkerchief; I hoped it was for a pistol.
Himes got his own first gun when he was kicked out of Ohio State University and took to the streets. Two suspended sentences only encouraged him to trade up his .32 and petty crimes for a Colt .44 and armed robbery. Before long, he was caught for jacking an elderly Cleveland couple's Cadillac and jewelry. The Caddy got stuck in the mud, and when the pawnshop owner went into the back room with the jewelry, Himes just stood there: "I suspected he was calling the police…. But I couldn't run; never could run." Handcuffed at the feet and hands, he says, he was hung upside down from a door and pistol-whipped into a confession.

The absurdity continued at Ohio State Penitentiary, where one con was murdered for not passing the bread, two killed each other over whether Paris was in France or France in Paris, and 330 died in a fire that swept through the overcrowded cells. But while doing time — he served just seven and a half of his twenty-five-year sentence — Himes learned to channel his rage into his writing. He eventually gave up his social protest novels for crime writing, finding fame with A Rage in Harlem and the seven other Harlem Detectives novels featuring Coffin Ed Johnson and Gravedigger Jones, these written in a twelve-year burst in the late '50s and '60s. By this time, Himes had moved to Europe, seeking a refuge from American racism; while writing his two volumes of autobiography, he could walk the streets of Paris and see himself advertised as "The Greatest Find in American Crime Fiction Since Raymond Chandler."
---
Daybook is contributed by Steve King, who teaches in the English Department of Memorial University in St. John's, Newfoundland. His literary daybook began as a radio series syndicated nationally in Canada. He can be found online at todayinliterature.com.