Guides to loading the family table with seasonal riches.
---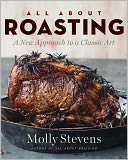 All About Roasting: A New Approach to a Classic Art
By Molly Stevens
The classic center of the holiday table is the subject of this guide. That delicate balance of crispy exterior and juicy center leaves many of us with questions: When to use high heat? When to slow roast? And when to broil that beast until the drippings are transformed into a caramelized elixir? The familiar cuts of meats are included, such as beef short ribs, pork tenderloin, and leg of lamb — but for a truly Dickensian celebration, Molly Stevens suggests a roast goose is just the thing.
---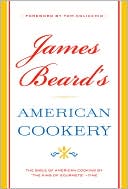 James Beard's American Cookery
By James Beard
Most readers are familiar with The Joy of Cooking and Julia Child's Mastering the Art of French Cooking, but Beard's comprehensive guide is no less essential to the kitchen of any accomplished chef or ordinary holiday host. The "Dean of American cookery" provides an encyclopedic manual that will steer you through the entire meal, from pre-dinner cocktails to dessert. An invaluable resident of everyone's flour-smudged cookbook shelf.
---
By Daniel Humm and Will Guidara
For those hosts looking to bring twenty-first-century sophistication to their guests, Daniel Humm and Will Guidara of Manhattan's lauded restaurant Eleven Madison Park divulge their secrets. Cutting-edge combinations meet classic French technique to provide a soupçon of the sublime to every dish, in recipes cleverly adapted for home cooks and laid out in easy-to-understand detail. Perhaps the most inspiring: how to prepare the restaurant's signature pork dishes — what one reviewer has called "a haiku, if you will, on the possibilities of the pig."
---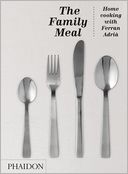 The Family Meal: Home Cooking with Ferran Adrià

By Ferran Adrià
Ferran Adrià has made his name with innovative approaches to gastronomy showcased at his signature restaurant, El Bulli. Now he returns to simpler fare, concentrating on the hearth and home, but with no loss of complexity. Adrià makes a concerted effort to keep his recipes down to earth, calling for inexpensive ingredients wherever possible. But the book's most marvelous innovation comes in the comic-book-esque recipes, which follow each preparation in beautiful photos that take you step-by-step, panel-by-panel through the creation of chicken stocks and chocolate cakes. Conversion charts make it possible to scale up a successful dinner for four into a spread suitable for any in-law inundated affair.
---
By Nava Atlas
Does the desire for a sumptuous holiday meal rule out a meatless approach? Forget the "tofurkey" of yore and embrace the bounty presented by the author of The Vegetarian Family Cookbook and Vegan Soups and Hearty Stews for All Seasons. Atlas serves up more than 200 toothsome recipes for special occasions that will have eaters marveling, "I can't believe this meal doesn't contain dairy." With gorgeous photos by Susan Voisin, you'll want to reach out and devour dishes like Altas's corn bread, piquantly flavored with green chili, and her showstopping desserts. More Cashew Chocolate Mousse Pie?