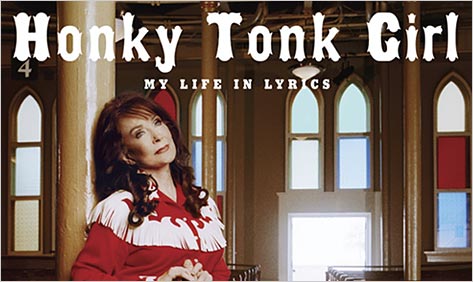 It can be a little embarrassing to read through the lyrics Loretta Lynn has collected (along with reminiscences of how they were written) in Honky Tonk Girl and realize that, during the years she was writing her greatest songs, she was never included among the singer-songwriters being fawned over in the rock press. Part of that is due to the segregation of country from the rest of pop music and, sadly, the condescension that bespeaks. The amount of ink spilled on the "poetry" of Paul Simon or Joni Mitchell or James Taylor can't disguise the essential squishiness of their work. And having Loretta Lynn's lyrics laid out one after another in this book can't disguise their essential toughness.

Whether the subjects are Lynn's upbringing in Kentucky coal country, her abiding faith (which exists in an American tradition of humble, roughhewn belief), the joys and heartbreak of married life with her loving and not-always-faithful husband Doolittle, these songs have the plainspoken bluntness of soul music. Which is only appropriate, as her contemporary Ray Charles spent the early '60s delineating the connection between country and soul.

When someone sets out to write the tome on the essential white-middle class character of the feminist movement, there should be a separate chapter for the way country music captured the details of the lives of working-class women more than the pap acclaimed as feminist music (the egregious "I Am Woman") ever did. Is it the country diction of "Don't Come Home A'Drinkin' with Lovin' on Your Mind" that prevents it from being treated as a no-nonsense declaration that sexual freedom exists even in marriage?

And that number wasn't the only arrow in Lynn's quiver. Songs like "The Pill," "Fist City," "You Ain't Woman Enough," and "Your Squaw Is on the Warpath" join great pop songs of the '60s like "You Don't Own Me," "Will You Still Love Me Tomorrow?," "Love Child," and Tammy Wynette's searing and eternally misunderstood "Stand By Your Man" as among the truest recountings of female experience in any popular art form. There's the woman in "Bargain Basement Blues" whose husband tries to make up for drinking his paycheck with a cheap dress. And, singular in '60s popular music, the woman in "Dear Uncle Sam" anguishes that her sweetheart has been sent to Vietnam. (That almost none of Lynn's albums in their original configuration are available on CD is a scandal.)

Taken as a whole, the lyrics collected here are as strong an argument as I have encountered in recent years for the way a popular artist translates the specificity of experience into the universal, and an implicit rebuke to the reductiveness of ideology. You can find it cute that the editors have chosen to render Lynn's reminiscences in imitation of her Kentucky dialect, with dropped g's and her favored expletive, "dad gum." But it's that bourbon-sweet voice of Lynn's that you hear in your head as you read. I wouldn't trade it for the most conscientious copyediting in the world.