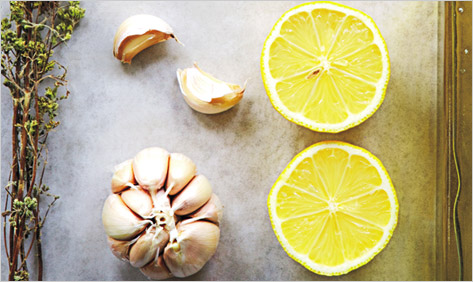 Part memoir, part instructional recipe collection, Michael Psilakis' book is more personal and unabashedly sentimental than most cookbooks. He describes not just his trajectory to celebrated chef from waiting tables at a T.G.I. Friday's, where he met his wife, but offers a gushing tribute to his late father, who "taught me how to hunt, garden, fish, and how to kill and skin a goat" — and compete in Cretan dancing.
In the past decade, Psilakis has become one of the Olympians of the New York culinary world. His upscale midtown Manhattan restaurant, Anthos, is the only Michelin-star-rated Greek restaurant in America, while his recession-proof, crowd-pleasing Upper West Side taverna, Kefi, draws hordes hungry for his souvlaki, tzatziki, and grilled octopus. His first cookbook reflects this breadth, ranging from the healthful, convivial, Cretan-inflected family-style cooking he learned from his mother while growing up in a Greek culture bubble on Long Island, to the complex, new Greek haute cuisine he has evolved from the classics for Anthos. Despite its carnivorous title, How to Roast a Lamb offers plenty of vegetarian dishes along with meats and fish, but — sweets lovers be warned — no desserts.
Psilakis opens with down-to-earth, manageable recipes such as Artichokes and Potato or Grilled Swordfish with Tomato-Braised Cauliflower, and builds to the more adventuresome, elaborate Anthos offerings. Poached Halibut with Cypriot Shellfish Salad, Cucumber-Yogurt Broth, and Caviar, for example, requires dozens of ingredients and multiple processes. It's fascinating to see what goes into these sophisticated compositions, though the Braised Quail with Fennel and Apricots is more my speed. I only wish he'd included a recipe for his Duck Gyros with Golden Raisin Marmalade and Caramelized Onions. Perhaps in his next book.