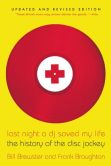 The Moondog Coronation Ball, regarded as the first rock 'n' roll concert, was held in Cleveland, Ohio, on this day in 1952. Headliners Tiny Grimes, a bebopping guitarist, and Paul "Hucklebuck" Williams, famous for his honking tenor sax, drew a sellout crowd; when another 15,000 gate-crashed the event, the police had to close things down. This helped to sound the sociocultural alarm bells, which warned that the new music was sending the next generation on a multi-lane highway-to-hell:
Like a heathen religion, it is all tied up with tom-toms and hot jive and ritualistic orgies of erotic dancing, weed-smoking and mass mania, with African jungle background. Many music shops purvey dope.… Another cog in the giant delinquency machine is the radio disc jockey. This character has become the high priest of this strong cult. We know that many platter spinners are hop-heads. Many others are Reds, left-wingers, or hecklers of social convention.… Through disc-jocks, kids get to know colored and other "hot" musicians; they frequent places the radio oracles plug, which is done with design and malice, to hook juves [juveniles] and guarantee a new generation subservient to the Mafia. (from the 1952 bestseller USA Confidential)
The platter-spinning oracle behind the Cleveland concert was the legendary DJ Alan "Moondog" Freed. He had made history at station WJW by taking R&B to a wider audience through his show, The Moondog Rock & Roll House Party. Freed did not, as he sometimes claimed, coin "rock 'n' roll," but he popularized the term and turned his show into an entertaining on-air performance by ringing a cowbell, pounding out the beat on a telephone book, and promising mayhem: "Down boy, down…we're going to rock tonight!"

Freed went on to greater fame at WINS in New York City, until he was sacked in the aftermath of another rock concert riot. As recounted in Last Night a DJ Saved My Life, a recent history of the disc jockey's rise to superstardom, Freed then became the center of a payola inquiry — bribes from the music industry to get air time for their tunes — that became "a crusade against the unrestricted influence of the disc jockey." Freed's conviction effectively ended his career and encouraged those who shared the New York Herald Tribune's view that the new music was "so bad that it's almost a relief to learn they had to be paid to play it."
---
Daybook is contributed by Steve King, who teaches in the English Department of Memorial University in St. John's, Newfoundland. His literary daybook began as a radio series syndicated nationally in Canada. He can be found online at todayinliterature.com.