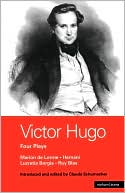 February 25: On this day in 1830, on the eve of his twenty-eighth birthday, VictorHugo's Hernani premiered in Paris. Theopening night is regarded as one of the most momentous in French theaterhistory, part of a larger conflict between the new-wave bohemians in Hugo's"Romantic Army" and the old-guard Classicists. Hugo had recentlypublished what amounted to a Manifesto of Romanticism, calling for an end to theold rules and proprieties. The like-minded artists and bohemians of Paris—agroup which included Dumas, Berlioz, Gérard de Nerval, and Théophile Gautier—sawthe premiere of Hernani as anopportunity to rally behind this call, to provoke the bourgeoisie, and to havea grand time.
Anticipating a battle,Hugo had rallied his troops, and deployed them as replacements for thecustomary claquers, or hired clappers.The young Romanticists were not as organized as the professionals—a chef de claque to direct things, commissaries to chat up the play atintermissions, rieurs to laugh, pleurers to cry, etc.—but they wereloud, and dressed in whatever eye-catching, anti-bourgeois costume could bemustered (Gautier, for example, in his signature red waistcoat with lime greenpants).
The first skirmish camelong before the curtain. Hugo's supporters numbered in the hundreds, andarrangements had been made to admit them to the theater early, but when theyassembled in mid-afternoon they found the doors locked. This gave passersby theopportunity to hurl catcalls and cabbages. But once in, the group still hadtime to picnic for three hours; when the other playgoers arrived it was torolling bottles, leftover baguettes and the smell of garlic sausage—somereported worse, the theater's washrooms apparently being over-challenged orunderused. The Romantics and the Classicists clashed verbally and sometimesphysically throughout the evening, and on every night throughout the play'sentire run of forty-five performances.
Hugo had asked his friends"to help me in pulling out this last tooth from the old ClassicPegasus." Viewing opening night as their triumph, he and the Army carriedthe celebration on well into the morning, turning the occasion into a birthdaycelebration for both Romanticism and its most famous champion.
---
Daybook is contributed by Steve King, who teaches in the English Department of Memorial University in St. John's, Newfoundland. His literary daybook began as a radio series syndicated nationally in Canada. He can be found online at todayinliterature.com.