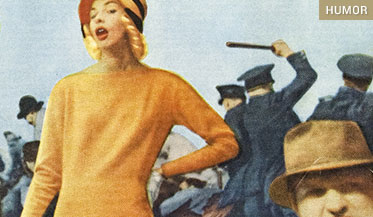 How's this for an April Fool's joke? Page 22 of your favorite humor magazine announces: "In a dramatic editorial session last month, the editors decided, that considering the time of year, the following article must be published. We will probably receive violent reactions to this article — praise and heated criticism. But this is the risk one takes in being bold and willing to take a stand. Remember — the following is like nothing you have ever read in a magazine. Now steel yourself and turn the page." What followed? A politically charged satire? A sexually risqué parody? A controversial spoof on religion? Well, as you might guess, nothing like that. In fact, it was nothing, as promised. Blank pages, announcing at the end, "April Fool."

OK, it's a joke as old as Tristram Shandy, but this was a magazine willing to try just about anything, especially with its ridiculously small budget, its demanding schedule, and its tiny staff.

And it took its name from another British novel, declaring itself Humbug and honoring Ebenezer Scrooge with the Christmas issue cover. That was the editorial approach to much of modern life: humbug. After all, this magazine was published in the'50s, that era of postwar prosperity, a time when leisure increased and consumerism boomed — and with it mass culture, from advertising to television. All of it offered ripe targets for satire.

Into the void stepped all sorts of humorists, from the raw and raunchy Lenny Bruce to the thoughtful and bemused Mort Sahl. The chatty clowning of Bob and Ray amused radio listeners alongside the clever narratives of Jean Shepherd, and Stan Freberg's good-humored parodies. Humbug came into the scene well prepared. And now we have all of this magazine in these two slipcased volumes that reprint the entire 11-issue run — available for the first time since the magazine appeared in 1957. (I should know. Before the Internet, it took me forever to collect the back issues, and most of them were crumbling and expensive.) Five talented cartoon and comic book artists joined together to form a cooperative venture that would be free from the immediate demands of accountants and the marketplace. They would simply do what they did best: write and draw funny stuff. Each brought a unique style and talent, and they were thrilled to be their own bosses.

First among equals was Harvey Kurtzman, the man who changed the face of comic books with his classic work for the EC line. He brought a level of realism, accuracy, and craftsmanship to titles such as Two-Fisted Tales and Frontline Combat. His greatest achievement was the creation of Mad — but his was not the puerile version of the magazine most of us know from our youth. Kurtzman's Mad began as full-color comic book, taking its form from exuberant and chaotic parodies of other comics: "Mickey Rodent," "Superduperman," and "Starchie." When that idea played itself out, his crew turned to spoofing movies and inventing wild comic illustrations of popular poems, such as "The Face on the Barroom Floor." After 24 issues, Kurtzman and publisher William Gaines, himself under pressure from Congressional comic book investigations and the decline in sales of his once-popular lines, transformed Mad into a black and white magazine, and sales soared.

What happened next is shrouded in mystery. Did Kurtzman get greedy? Was Gaines trying to dumb down the magazine? Probably both, but Kurtzman soon had another offer in his pocket. Hugh Hefner, riding high on the success of his slick and sophisticated girlie magazine, Playboy, financed Kurtzman for a similarly glossy full-color humor magazine. Trump was a thing of beauty all right, Kurtzman's dream. He could hire all the writers and artists who were too expensive for Mad, and he had the full sales force of Playboy behind him. Such dreams fulfilled never last long — two issues of Trump, in this case, before Hef pulled the plug. A fiscal crisis at the Mansion was the official reason, but there's a good chance the problem was simply Harvey himself. As an editor he held everyone to a perfectionist's standard, resulting in endless revisions and a delayed publishing schedule — the latter deadly to newsstand sales.

From both of these experiences came Humbug, free of business managers and paternalistic owners. And therein lay its demise. But in its short run, Kurtzman and his cronies served up some of the smartest satire of the time, much of it as fresh today as it was when first printed. And who were the new gang of idiots? From Mad and EC, Kurtzman enlisted Will Elder, a high school buddy famous for his visual style. Every inch of Elder's frames is slathered in what they called "chicken fat" and later comics artists call "eyeball kicks," tiny jokes everywhere: goofy street signs, wacky labels, little people crawling along the borders. Elder could illustrate anything for Humbug — a spot-on spoof of the scandalous television quiz show 21, the difficulties of modern voting machines, and silly Band-Aids that will appeal to kids.

Kurtzman also stole Jack Davis from the EC stable — an illustrator whose work continues to amuse on covers from Time to TV Guide. Davis's rangy characters, with their bending bodies and amazing feet, made his work particularly suitable for sports humor — the sneaky advantages of being tall in basketball, the inadequacies of football equipment, and the fun of spring training — for fans. But Davis's movie and television parodies — mostly written by Kurtzman — are stunning. His thin-line precision, his ability to suggest movement, and his perfect caricatures make for enduring work, even if you don't remember such TV shows as Have Gun, Will Travel or movies like Baby Doll. His ongoing series in Humbug ("and ?you know who' gets killed") punctures cinematic clich? with a precision that matches his expert style.

Also on board at Humbug as partners were Al Jaffee, who later became best known for his surprise foldovers in Mad, and Arnold Roth, recruited by Kurtzman for Trump. Roth brought a new level of sophistication to the EC boys — his fine-line pen drawings for Humbug, which aren't as elongated as they are in his later, more familiar work, nevertheless demonstrated an ability to mock with the best of them. He carves up the ritual of slicing the Thanksgiving turkey; pinpoints the then-current obsession with Russia's Sputnik satellite, and often sneaks in a voluptuous woman somewhere in his illustrations. His debonair wit added an Anglophilic note to a magazine whose humor was primarily Bronx overstatement.

Among the non-partners who contributed to this writer-artist collective were R. O. Blechman, whose one-page minimalist cartoons were way beyond the dense and overloaded work elsewhere in the magazine. But that was part of Kurtzman's vision of a more grown-up humor, a sensibility that approached but was not as staid as that of The New Yorker (even though Blechman would later grace its covers often). Another discovery was Larry Siegel, who contributed all-text pieces, something Kurtzman had tried to begin at Mad. These parodies — of O.Henry, Herman Wouk, Robert Ruark — display Siegel's ability to mimic the language of almost anyone, or even better, to rewrite their plots in a different voice: Hamlet as a Dick and Jane book, or a simple episode of bug-spraying the garden as a World War II melodrama.

Kurtzman's sense of humor was never mean or abrasive. He poked fun mostly at the absurdities of everyday modern life, but the exigencies of putting out this magazine found the group resorting to some quick fixes: a reprint from Punch or an entire chapter from Gulliver's Travels. There were even efforts to sell some Humbug merch: goofy wrapping paper, oddball jewelry, and a paperback reprint of the first six issues. But nothing worked. Yet both Jaffee and Roth contend that it was a splendid time, and Kurtzman demanded their best work. His obsessive nature and willingness to go back to the drawing board over and over were both a strength and a weakness. In the long interview appended to this beautifully restored collection of all 11 issues of Humbug, Jaffee and Roth pay homage to the late Kurtzman, a stickler for design clarity and a mensch in every way.

In his own autobiography, My Life as a Cartoonist, written for young adults, Kurtzman admits his failings with Humbug. Sure, it was printed on cheap newsprint, but that was the least of it. The size was wrong: smaller than comic books, issues got lost on the newsstands; and the price was a mistake as well. Fifteen cents provided too low a margin to motivate distributors. Ah, well! As Kurtzman puts it: "I learned a valuable lesson: I'm a terrible businessman." But a great editor, all seem to agree, served well by this wonderful production from Fantagraphics, complete with helpful annotations to some of the more obscure stuff by John Benson, and a fine historical overview by Gary Groth.

Kurtzman went on to other work, from an even lower-budget magazine called Help to writing a regular cartoon series for Playboy, and nurtured the careers of Terry Gilliam, Gloria Steinem, and Robert Crumb, to name an unlikely few. Every page, though, attests to one thing: his all-American genius as writer, artist, and editor. And that's no April Fool's joke.